Link to this page: https://www.socialistparty.org.uk/issue/591/7649
From The Socialist newspaper, 26 August 2009
University places scandal
Jobs and education not dole and debt
Fight for real jobs
Fight for free education
Join the demonstration on 28 November in London
---
>
How many obstacles can the government put in front of young people who want a decent future?
Danny Melia and Sarah Sachs-Eldridge
Under New Labour, would-be university students have not exactly had it easy. But the brutal testing regime of the British education system and the bleak prospect of £23,000 worth of graduate debt have not satisfied Gordon Brown and Co.
This year further thousands of young people have been denied a place at university.
Why? Because of government cuts. Young people have been told their future is 'too' expensive.
This summer, while fat cat bankers and bosses sit in their counting houses counting all their bonuses and many expenses-enriched MPs holiday on the yachts of the wealthy and sometimes famous, young people face a miserable situation. The recession means youth unemployment is on track to reach one million in September.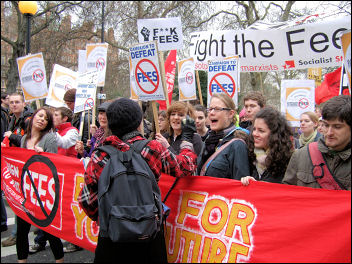 Fighting fees - student demonstration in central London, photo Rob Sutton
The university admissions service, Ucas, says there are now about 60,000 more applicants this year than last year - a rise of about 10% - as many attempt to escape long-term joblessness. But the government capped the number of extra places available at 13,000, and has not committed to fully funding them.
This has created a nightmare situation for young people who have sweated through their exams and coursework to get the required grades. Tens of thousands of young people have been denied entry to their chosen courses. Following the announcement of A-level exam results there was chaos in the clearing system.
A £200 million 'hole' in government funding for universities means further destruction of higher education; insufficient places, job cuts, course cuts and privatisation. Huge lecture theatres abound where lecturers are tiny specks in the distance. For students, tuition fees mean getting jobs and that means less hours in the libraries, where there are already insufficient texts for the growing student numbers.
Plenty of money
But let's put this 'hole' in context. The IMF estimated that the UK bank bailout cost £140 billion. That could fill 7,000 such holes. Trident nuclear weapons are likely to cost £76 billion over their lifetime, the equivalent to over 3,000 holes. Research for the TUC in 2008 showed that companies and wealthy individuals are manipulating the British tax system to avoid £25 billion of tax each year.
So why have so many young people had their future snatched away from them? Because pro-big business politicians and their greedy pals in the boardrooms make adequate funding impossible.
Socialists say that education should be a right for all. Everyone should have the opportunity to learn, to develop their skills and interests and to contribute to society. Under capitalism, increasing numbers are denied this.
Chancellor Alistair Darling has insisted that the government is doing all it can to avoid creating a "lost generation" of young people. Imagine if they stopped 'trying'! Young people cannot rely on capitalist politicians to defend their rights.
Building a mass movement to fight for free education, for real jobs and for the right to a decent future for all is urgent. To guarantee these rights will take a struggle for socialism.
No to exclusions on financial grounds. Fully fund university and college places.
Scrap all university fees.
Write off all student debt. Introduce a grant covering the living costs of all students.
No to cuts, closures, privatisation and job losses at all levels of education.
Build a mass campaign against attacks on education and jobs, coordinated democratically on a national basis by fighting student unions, campaign groups and trade unions.
Why not click here to join the Socialist Party, or click here to donate to the Socialist Party.
---
In The Socialist 26 August 2009:

Jobs and education not dole and debt
---
War and occupation

Afghanistan: Withdraw foreign troops
---
Socialist Party NHS campaign

No to health privatisation and 'the market'

Private Finance Initiative still threatens NHS future
---
Socialist Party campaign news

Vestas workers fight on

Ireland - workers campaign against Lisbon Treaty

Recession threat grows

Time to Fight Back: demonstrate at TUC conference
---
Socialist Party workplace news

Construction workers defending jobs and conditions

Postal strike reports

Fiddlers Ferry protest continues

South Yorks firefighters plan industrial action
---
Youth fight for jobs

No to Future Jobs Fraud scheme

Leaving education: comment

Youth Fight for Jobs action

Socialist Students and Youth Fight for Jobs campaign material
---
Socialist Party Marxist analysis

World recession, revolution and counter-revolution in Latin America
---
Socialist Party news and analysis

March shows growing opposition to far right BNP

Daventry: socialist candidate in council by-election

Passengers want publicly owned buses
---
Unison witchhunt

Unison witch-hunt/employment tribunal: The truth is coming out
---
Housing crisis

How safe are our houses?
---
Global Warming

Poorest suffer globally from climate change
---
Home | The Socialist 26 August 2009 | Join the Socialist Party
---