Link to this page: https://www.socialistparty.org.uk/issue/593/7984
From The Socialist newspaper, 15 September 2009
No to cuts in jobs and services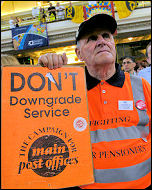 TUC rally in Westminster against cuts in public spending, photo Paul Mattsson
ALL OF Britain's capitalist politicians aim to tackle the economic crisis of recession and public-sector debt by hitting out at vital public services and public-sector workers.
At TUC conference Prime Minister Gordon Brown warned that spending cuts are coming. Tory leader David Cameron agrees; the capitalist parties just argue about what to cut and how deeply.
But who caused and worsened the present recession and massive public debt?
Surely the greedy bankers, extravagantly paid and bonused executives and avaricious top shareholders of the world's private companies desperate for maximum profits, are to blame.
Most public sector workers have already suffered an effective pay freeze. But it is they who are threatened with cutbacks, sackings and pay cuts and all of us who are threatened with cuts in services.
Why not click here to join the Socialist Party, or click here to donate to the Socialist Party.
---
In The Socialist 15 September 2009:

Big business to blame for climate change
---
No Job Cuts

No to cuts in jobs and services

Capitalist market prescribes diet of cuts

TUC conference - reactions to Brown's speech

TUC conference: Fightback rally
---
War and occupation

End the Afghan nightmare now
---
Socialist Party workplace news

Nationalise Anglesey Aluminium to save jobs

Rover - Gangster capitalists were treated as saviours

London RMT: Discussing an election coalition

Leeds council workers on indefinite strike

National Greed

Construction workers' pay - reject the deal!

The fight against the building blacklist
---
Socialist Students

Students left penniless

Cardiff: Youth Fight for Jobs

College workers strike against vicious cuts
---
Vestas

Vestas: the fight is far from over

Coventry Socialist Party councillors show support for Vestas
---
Socialist Party feature

Interview with POA leader Brian Caton
---
Socialist Party women

Victory - Decent jobs not exploitation
---
Socialist Party review

A life of revolution
---
International socialist news and analysis

Japan: Election ends Liberal Democrats' 54-year reign

Bangladesh: Angry protests at police attacks

Sri Lanka: Defiant Tamil protest
---
Home | The Socialist 15 September 2009 | Join the Socialist Party
---