Link to this page: https://www.socialistparty.org.uk/issue/593/7990
From The Socialist newspaper, 15 September 2009
Higher education funding crisis
Students left penniless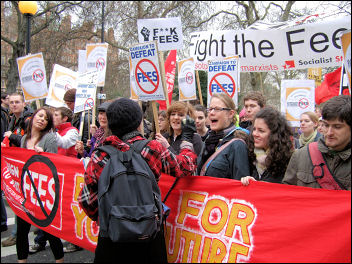 Fighting fees - student demonstration in central London, photo Rob Sutton
According to The Guardian 170,000 students face the prospect of starting term without the loans and grants they are entitled to. Once again young people are paying the price for the government's failures. Many students and their families are wondering how they can pay the first instalment of their rent or pay for basic living costs without financial support.
Matt Dobson, Socialist Students national organiser
The administration of student finance in England has been taken over by a private company - Student Finance England (SFE), an arm of the Student Loans Company (SLC). SFE set a ridiculous applications deadline of the end of May 2009. How were students supposed to have sent in the mountains of paperwork involved in applications during their exam period? By July horror stories had started to appear in the press and on student internet discussion forums.
Every student must show their university a letter documenting their financial support before they can enrol on their course. Universities, if they wish, have the power to turn away students who cannot provide this information.
Some vice chancellors say they will defer payment deadlines and allow students to enrol. But students cannot depend on the 'goodwill' of vice chancellors, many of whom have made it clear that they want to charge much higher tuition fees, have privatised university services and have a history of excluding those who cannot afford to pay.
There are daily reports of students dropping out of their courses or opting to decline a university place because they cannot afford to pay upfront without the loan, or to take the chance that they will get funding. It is the government's disastrous privatisation policy that has thrown student finance into chaos.
Student finance was taken away from local authorities in September 2008 with a loss of jobs in local government. It took until February 2009 for SFE to begin processing students' applications as all the information held by local authorities had been discarded. Without this, SFE has struggled to deal with the increase in applications (16% according to UCAS) and higher numbers of existing students who have begun to claim loans due to the recession.
The SFE and New Labour ministers keep promising that every student who applied before the deadline will get funding. Why should anyone believe them? They assured everyone in June, when delays were first reported, that there was nothing to worry about as the backlog would soon be cleared. But then SFE had to increase its staffing levels by 50% at the end of August because they were still eight weeks behind. Term has begun and hundreds of thousands are still waiting.
Higher education minister David Lammy has promised the poorest students who claim means tested support that they will receive the full loan and grant payment even if the means testing process has not been completed. But any overpayment will be recovered from students later in the term, thereby punishing students for the government's mistakes.
It is clear this vital service for students is being run on the cheap. Understaffed call centres have the task of processing applications of over one million students. Staff are being asked to work more and more overtime. A private company is getting away with making money out of failing to provide a basic administration service.
The anger of students and families across the country is increasing. Why should we pay for the incompetence of the government and private companies? Along with the threat of even higher fees, rising student debt and mass employment there is another reason for students to join the fightback this year.
Socialist Students says:
No to any exclusion of students on financial grounds
No to overpayment charges on means tested students
Fully fund all student places
Take the administration of student finance back into the public sector
Scrap fees and write off all student debt
Immediately introduce a living grant for all students - no to means testing
Why not click here to join the Socialist Party, or click here to donate to the Socialist Party.
---
In The Socialist 15 September 2009:

Big business to blame for climate change
---
No Job Cuts

No to cuts in jobs and services

Capitalist market prescribes diet of cuts

TUC conference - reactions to Brown's speech

TUC conference: Fightback rally
---
War and occupation

End the Afghan nightmare now
---
Socialist Party workplace news

Nationalise Anglesey Aluminium to save jobs

Rover - Gangster capitalists were treated as saviours

London RMT: Discussing an election coalition

Leeds council workers on indefinite strike

National Greed

Construction workers' pay - reject the deal!

The fight against the building blacklist
---
Socialist Students

Students left penniless

Cardiff: Youth Fight for Jobs

College workers strike against vicious cuts
---
Vestas

Vestas: the fight is far from over

Coventry Socialist Party councillors show support for Vestas
---
Socialist Party feature

Interview with POA leader Brian Caton
---
Socialist Party women

Victory - Decent jobs not exploitation
---
Socialist Party review

A life of revolution
---
International socialist news and analysis

Japan: Election ends Liberal Democrats' 54-year reign

Bangladesh: Angry protests at police attacks

Sri Lanka: Defiant Tamil protest
---
Home | The Socialist 15 September 2009 | Join the Socialist Party
---