Link to this page: https://www.socialistparty.org.uk/issue/595/8186
From The Socialist newspaper, 30 September 2009
Fight all council cuts
Organise action to save services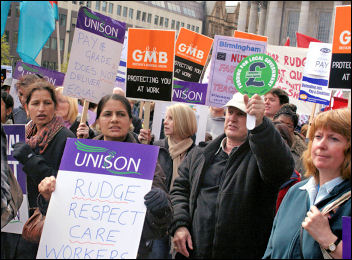 Birmingham Council workers on strike, April 24, photo S. O Neill
"Any managers of a public service who are not planning now on the basis that they will have substantially less money to spend in two year's time are living in cloud cuckoo land." These are the chilling words of the chief executive of the Audit Commission. They preface Kirklees council's briefing paper on the rationale behind their announcement to slash public services by anywhere between £250 million and £400 million in the next five years.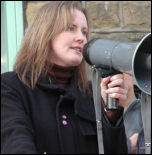 Jackie Grunsell, Save Huddersfield NHS campaign councillor and Socialist Party member, photo Alison Hill
Jackie Grunsell, Defend NHS councillor and Socialist Party member, Huddersfield
What is happening in our authority is being planned everywhere else. But trying to dress up the cuts as something else, the council has set up its own '1984'-type unit - the 'Innovation and Efficiency Programme'. The first thing this unit has done is to bring in an external consultant and appoint some new managers.
The council is now drawing up proposals which will be put to councillors, staff and trade unions by the end of the year for implementation next April. This will coincide with the next general election and will inevitably be the talking point for all local politicians and voters.
This is a minority Labour administration advocating the cuts. But other councillors have added their pennyworth. The Lib Dems have endorsed the cuts programme, described by the Labour leader as 'changes'. The Tories have called for more redundancies.
The Greens have argued that every council worker should cut their working hours - meaning their pay! The one BNP councillor left on the council said: "The good thing is that a lot of the silly posts can disappear. I've always advocated that you get rid of 25% of council staff and no-one would notice. We won't be able to guarantee early retirement and gold-plated pensions."
These words will come back to haunt the BNP and will be rammed down the throat of every BNP activist and publicised widely during the anti-cuts campaign.
The largest public sector union, Unison, has secured a 'no compulsory redundancy' commitment. But this must be adhered to, and should not be used as an excuse to be lulled into a false sense of security.
Many workers are incensed by the plans, citing bankers' bail-outs, bosses' bonuses, and managers' pay as examples of the government's hypocrisy on public services. One worker told us that they had already sent in their ideas for cuts, starting with their own managers!
Our local campaign is already underway. A public rally is planned and petitions are already circulating. Building for the local Youth Fight for Jobs demo planned on 21 October to coincide with the next council meeting now takes on more urgency. Local unions and community groups will be encouraged to participate.
These attacks will not be taken lying down. In Kirklees we have a proud track record of fighting cuts and closures.
This will be a long hot Autumn, in Kirklees and everywhere else fighting these savage cuts to our jobs and services.
Why not click here to join the Socialist Party, or click here to donate to the Socialist Party.
---
In The Socialist 30 September 2009:

Fight all council cuts
---
Socialism 2009

Socialism 2009: ideas to change the world
---
International socialist news and analysis

New right wing government, but success for the Left Party in Germany

Kazakhstan: Socialist activist attacked by thugs
---
Socialist Party news and analysis

No to BNP TV platform
---
Socialist Party workplace feature

London postal workers: Big majority to stop funding Labour

Unison witch-hunt - Defend the Four!
---
Socialist Students

Students ready to fight back
---
Marxist analysis: history

1949 - Chinese revolution
---
International socialist news and analysis

Honduras: Coup leaders step up repression

Nepal - mass rallies back Prachandra
---
Socialist Party workplace news

Vestas workers fight on

Leeds council workers' strike solid

Management forced to retreat

Mass rally in support of South Yorkshire firefighters

Civil service compensation scheme: Thousands say no to cuts
---
Home | The Socialist 30 September 2009 | Join the Socialist Party
---