Link to this page: https://www.socialistparty.org.uk/issue/597/8250
From The Socialist newspaper, 14 October 2009
Apprenticeships? Yes, but not at any price!
Attempts to divide the working class were ratcheted up a notch at the Conservative Party conference in Brighton last week. David Cameron spoke of the Tories' "big, bold, radical scheme to get millions of people back to work" as "the centrepiece of the Tory conference".
Sean Figg, Youth Fight for Jobs national organiser
These headline announcements were designed to catch the ear of those youth and workers worrying for their jobs or in desperate search of work as unemployment continues its steep climb. For young people Cameron and Osborne are promising that a Conservative government would create an additional 100,000 apprenticeships, an extra 50,000 training places at colleges, and 50,000 work pairing places.
The Tories presided over mass youth unemployment in the 1980s, which was deliberately brought about by their brutal pro-big business economic policies. The hypocrisy on display last week as Cameron tried to re-brand the Tories as the 'party of jobs' was nauseating. Youth Fight for Jobs would welcome any genuine policies that would help young people in this recession - but not at any price!
Divisive policies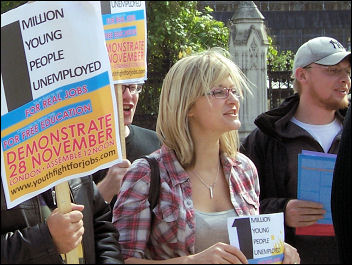 Youth Fight for Jobs campaigning outside parlilament, photo by youthfightforjobs.com
campaigns such as Youth Fight for Jobs and The Socialist have been calling for 'bold' schemes to tackle the developing mass youth unemployment for many months. However we have already resisted and criticised one potentially divisive policy from the New Labour government - the Future Jobs Fund which could see unemployed youth on 'work placements' undercutting existing workers (covered in previous issues of The Socialist).
However the Tories take attempts to divide us to dizzying new heights! Any future funding for the expansion of apprenticeships and college places for young people is posed point blank as dependent on cutting the benefits of 500,000 individuals on incapacity benefit. To try and play the young off against the sick and disabled is an absolutely disgusting move that must be fought.
The fight for work, the fight for work that pays a living wage and the fight for decent benefits are all part of the same fight. The Tories, like Labour and all the parties that support the market, will try and divide those in work from those out of work, will try to divide young from old, and will try to divide those receiving benefits from those not.
The big-business politicians want to drive these wedges between us to make it easier to make us pay for the economic crisis created by them and the city bankers.
None of the mainstream parties speak for young people, so young people need to organise themselves to make their voices heard. We need to build strong links with workers and all groups being attacked as a consequence of this recession.
We urge all those who want to resist the Tories' divisive agenda to join the Youth Fight for Jobs demonstration on Saturday 28 November. We will fight for real jobs and for real education for all - not just for some at the expense of others!
Donate to the Socialist Party
Finance appeal
The coronavirus crisis has laid bare the class character of society in numerous ways. It is making clear to many that it is the working class that keeps society running, not the CEOs of major corporations.
The results of austerity have been graphically demonstrated as public services strain to cope with the crisis.
The government has now ripped up its 'austerity' mantra and turned to policies that not long ago were denounced as socialist. But after the corona crisis, it will try to make the working class pay for it, by trying to claw back what has been given.
The Socialist Party's material is more vital than ever, so we can continue to report from workers who are fighting for better health and safety measures, against layoffs, for adequate staffing levels, etc.
When the health crisis subsides, we must be ready for the stormy events ahead and the need to arm workers' movements with a socialist programme - one which puts the health and needs of humanity before the profits of a few.
Inevitably, during the crisis we have not been able to sell the Socialist and raise funds in the ways we normally would.
We therefore urgently appeal to all our viewers to donate to our Fighting Fund.
---
In The Socialist 14 October 2009:

The main parties say: 'Work until you drop'
---
Postal workers

Victory to postal workers
---
Socialist Party editorial

The economy: Green shoots or scorched earth?

What would a Tory government be like?
---
War and occupation

Afghan conflict: Stop the war now
---
Youth fight for jobs

Apprenticeships? Yes, but not at any price!
---
Socialist Party news and analysis

Manchester mobilises against fascists

RAP victory in Walthamstow

Housing workers in 'sleep over'

Fast News
---
Socialist Party workplace news

Fight the fire service cuts

British Airways - What's really going on?

University staff forced to strike

Unison - opening door to minority rule

Socialist stands for NUT vice-president
---
International socialist news and analysis

Sri Lanka: Shut down the camps!

Greece: Hated ND government booted out in general election
---
Socialist Party review

A 'dis-service' to Leon Trotsky
---
Home | The Socialist 14 October 2009 | Join the Socialist Party
---