Link to this page: https://www.socialistparty.org.uk/issue/600/8326
From The Socialist newspaper, 3 November 2009
South Yorkshire firefighters and Sheffield First bus drivers
Unity of Sheffield strikers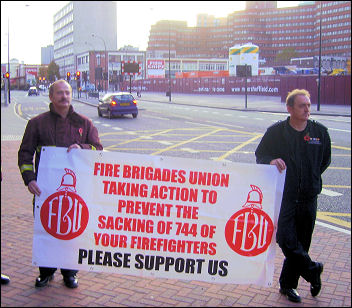 South Yorkshire firefighters on strike, photo by Alistair Tice
Despite last minute talks and supposed 'offers', strikes by South Yorkshire firefighters and Sheffield First bus drivers went ahead on 31 October, joining postal delivery workers taking national industrial action on the same day.
About 80 trade unionists with delegations from all three strikes rallied together outside Sheffield central fire station at 4pm when Fire Brigades Union (FBU) members walked out to start the first of five consecutive days of eight-hour strikes.
This is their second week of taking strike action against the chief fire officer's attempt to impose shift changes under threat of mass dismissals.
Similarly the First bus drivers at Sheffield's Olive Grove depot, despite 63% accepting an imposed pay freeze this year (and 3% next year) in a South Yorkshire company ballot, struck for a fourth time against the bullying management's disciplinary regime.
Despite the local newspaper's one-sided reporting - ie management's side - public support for all three strikes is very high, reflected in the constant tooting of horns as cars pass the pickets' braziers and the workplace and street collections for strikers.
Further strikes have been called by the FBU on 6-14 November and by bus drivers on 7 and 12 November.
---
>
STOP PRESS - LOCK-OUT THREATENED!
Chief fire officer Mark Smitherman has sent every striking firefighter a letter threatening to effectively lock them out if they participate in the 17 short walk-outs planned over the nine days from 6 November.
Matt Wrack, national FBU general secretary, said: "This is the behaviour of a management that wants to put public safety at risk, not protect it.
"They could have had a full service running tonight, but instead they called a press conference."
Sean Starbuck, national officer, slammed the authority's claim they could run a safer service with contingency brigades: "That lot are used to riding desks, not riding fire pumps. We don't want these firefighters outside the doors, we want them inside. It is a simple issue. We are asking for real talks so that we can get a full service up and running again."
Why not click here to join the Socialist Party, or click here to donate to the Socialist Party.
---
In The Socialist 3 November 2009:

Join the march for jobs
---
Socialist Party workplace news

'Modernisation' means cuts: Support the postal workers' fightback

Time to plan for all-out postal strike

Reports from the postal workers' picket lines

Postal workers - step up the action to win! Socialist Party leaflet pdf
---
Socialism 2009

Want to change the world? Join the Socialist Party!
---
Socialist Party statement

Action needed to bring election coalition into shape
---
Socialist Party news and analysis

We want workers' MPs on a worker's wage

RBS/Lloyds - Yet more bailouts and job cuts

fast news
---
Socialist Party workplace news

BA cabin crews come out fighting

Leeds bins strike against management attacks still solid

South Yorkshire firefighters and Sheffield First bus drivers

Victory at Crown Aerosols

Trade unionists must fight for decent benefits for all
---
International socialist news and analysis

Pakistan - New wave of terrorism as the guerrilla war escalates
---
Home | The Socialist 3 November 2009 | Join the Socialist Party
---