Link to this page: https://www.socialistparty.org.uk/issue/602/8382
From The Socialist newspaper, 18 November 2009
Interview with Mark Serwotka, PCS general secretary
Building a campaigning and fighting trade union
Mark Serwotka, the general secretary of the Public and Commercial Services union (PCS) is standing for re-election in the next few weeks. Mark spoke to The Socialist about the challenges facing the union and its members.
What do you think are the main issues that members want you to have answers for in the general secretary election?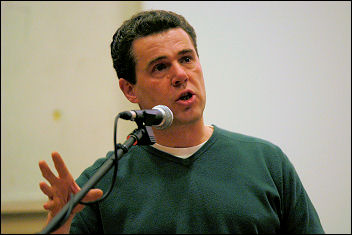 Mark Serwotka at Socialism 2007, photo Paul Mattsson
Members will get the starkest choice possible in this election. We face the biggest assault on the public sector we have ever seen. None of the main political parties are going to advocate the defence of public services or public sector jobs.
Therefore what will stand between the worst happening - massive job losses, privatisation, erosion of terms and conditions, and I think arguably attacks on the right to strike in the public sector - will be the trade union movement.
I will argue that we need bold leadership, based on people being prepared to fight. That is what we've tried to do in the union over the last eight or nine years. That approach won on pensions and has delivered essentially no compulsory redundancies in the civil service. Wherever we have been prepared to take action we have bettered people's terms and conditions.
My opponent in the election has said that strikes cannot achieve anything and partnership with the government is what you need, even if it's a Tory government. Then we 'have to make tough choices', which I read as accepting pay freezes to keep jobs, for example.
How has PCS changed under the leadership of yourself and the left?
Most people would accept that PCS now is unrecognisable from when I won the original election for general secretary in 2000. The left has then won the leadership of the executive continuously since 2002.
We have recognised that you need a vibrant campaigning union, strong in the workplace to stand up to local management, strong in the different industrial sectors and strong in the national arena, both politically and industrially.
That approach has delivered a huge rise in membership. The density in the civil service for PCS is higher than it's ever been in history - 72%. That compares with 58% across the public sector.
We have more activists and the infrastructure of the union has changed to democratise it and give power to the activists. We see the activists as the solution to the problems whereas in other unions the activists are seen as the problem.
That is why we have given a lead to other trade unionists. In 2005 it was PCS that led the coalition of eight unions that went from the government's refusal to negotiate to ring-fencing existing terms and conditions.
The government has cut 90,000 jobs, which we tried to oppose. But they wanted to have mass compulsory redundancies - we've had fewer than 100. It would have been better not to have had any jobs cut but hardly any were compulsory.
We're now standing up to the government who are trying to rip up our redundancy agreement. We've had over 33,000 members in workplace meetings over two months - that's over 10% of the union we have spoken to directly. Over 80% of them have said they are up for industrial action if the government do not pull back form ripping up our terms and conditions.
Myself and the Democracy Alliance executive understand the importance of these issues. The right wing have no answers and will seek to demoralise members by saying the only way is to be nice and get into partnership.
All the main parties are competing to see how much they can cut from the public sector. How has the union reacted on a wider level to these attacks?
I think we have recognised in PCS that when there's an onslaught you have to stand up and fight to defend yourself. If you have to do that on your own, you have to do it, but it is always better to do that with others.
If I win the election, working with the executive, we will seek to turn our conference resolutions into reality. We want to have an alliance with other public sector unions to jointly defend jobs, services and pay.
If I am elected in December I will go to a January meeting of the executive with a strategy paper on how PCS can try to unite the public sector unions, to build towards joint campaigning, joint industrial action, and joint political pressure in the run-up to the general election.
In 2005 on pensions, eight unions voted to strike and we won without taking industrial action. On pay in 2008, despite an unanimous decision of the TUC congress for joint public sector action on pay, proposed by us, we were the only union at the end of the year still prepared to fight. And the result was we achieved nothing.
That has got to be the message we take to Unison, to the education unions, to local government unions. I hope we can get those unions to commit to joint campaigning and joint action. But we mustn't be sucked into a position where if we can't get the other unions in a row we can't do anything. That's what marks us out as different.
That must be combined with support for workers in struggle, to continue to support the postal workers if they go back into action. We have sent £3,000 to the FBU in South Yorkshire for their solidarity fund. We want to support the refuse collectors in Leeds. We recognise that any workers who now win are a beacon to everybody else.
Passing Motion A72 on political representation at this year's PCS conference was a landmark in civil service trade union history. [A72 calls for the union to widely consult its membership on the issue of the union supporting trade union candidates in future elections]. If there is support for the proposals, how will this be pursued at next year's conference and beyond?
I think that the carriage of motion 72 was historic. Because, in a union where we've been told over decades that we must be apolitical, it represented a total understanding that everything's political. That keeping out of the political process weakens you, it doesn't strengthen you.
That motion was built on our Make Your Vote Count activity where alone amongst unions we said we have no tribal loyalty to the existing parties.
MPs if they want our vote, should earn it. It's based on putting pressure on local candidates and also accepting that politics is not just about the three main parties. It is also about the Greens, the nationalists and increasingly, socialists.
We ask them all the questions and publish all the answers to our members. The only ones we exclude are the fascists.
The next step for us is to consult about standing candidates in elections in certain circumstances, or work with others to stand candidates.
It's been clear to me for a long while that we do need a new left party in Britain. But where I am personally is not to be confused with where the union is collectively.
The union has decided to consult branches on whether we should stand or support trade union candidates in elections as a result of our experience of being confronted, more often than not, with candidates who all support a pro-cuts, pro-privatisation agenda.
The lesson we need to draw from the last ten years is that whilst people have attempted to offer a left alternative in elections what has been missing is the organised trade union movement. That is needed to bring the discipline and the collective approach.
If our conference agrees, we will do something that I don't think any other union has done. We will ballot all our members seeking authority to implement a political strategy.
With youth unemployment going over 1 million so far, and given that your union has possibly the lowest average age of any trade union, what role do you think there is for initiatives such as Youth Fight for Jobs?
Youth unemployment is a massive issue. We have lots of young members in PCS. We have them in call centres, some of the worst working conditions that you'll find. Understanding some of the issues that young members have explains why we have such a successful young members' section.
They have been very supportive of Youth Fight for Jobs and have spoken at rallies. We supported the campaign at our conference both financially and as a signatory. And we will be supporting the rally on 28 November.
You need a strong union that defends people in the workplace but you also need a union that understands where all these problems come from. PCS has understood that the role of a union is to stand up for workers' issues but also to play its part in wider issues with other unions and other campaigns.
The election runs from 19 November to 17 December.
Why not click here to join the Socialist Party, or click here to donate to the Socialist Party.
---
In The Socialist 18 November 2009:

Fighting for a future

Youth march for jobs
---
Global Warming

More evidence of climate change: Socialist planning needed
---
Socialist Party news and analysis

British Airways merger plan poses new threat to workers

Tamil refugees in desperate situation

Labour pushes nuclear plants

Fast news
---
Socialist Party workplace news

Third week of Superdrug strike

Brighton bin workers score quick victory

Leeds council delays talks to end bin dispute

Sheffield First bus drivers beat back bullying management
---
Socialist Party feature

Interview with Mark Serwotka, PCS general secretary
---
Marxist analysis: history

USSR 1989 - the collapse of Stalinism
---
Socialist Party election analysis

Glasgow North East by-election: Mass abstentions in Labour's 'surprise win'

Far right SDL driven out of Glasgow city centre
---
Socialist Party Marxist analysis

Service with a snarl: Robert Service refuses to answer questions
---
Workplace news and analysis

Working life in a car factory

Ericsson closure condemned by Coventry socialist councillor

Save Ashford further education

London trade unionists meet to build workers' solidarity
---
Home | The Socialist 18 November 2009 | Join the Socialist Party
---