Link to this page: https://www.socialistparty.org.uk/issue/604/8437
From The Socialist newspaper, 2 December 2009
Youth march for jobs: "A fantastic experience"
Click to view video
Youth Fight for Jobs (YFJ) will doubtless earn a reputation for putting on the most lively, vibrant and colourful demonstrations in Britain. Over 1,000 people marched, adorned with flags, banners and placards with the message of the demo - 'for real jobs', 'for free education'. This made an impact on the huge Saturday afternoon crowds filling central London. Everywhere people stopped to watch us march by, in many cases cheering us on.
Sean Figg, YFJ national organiser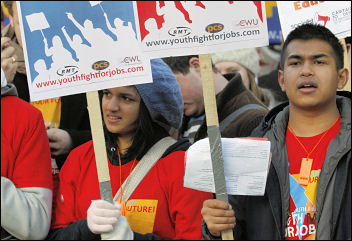 Youth Fight for Jobs demonstration 28 November 2009, photo Aleksandrs Ivanov
Unemployed youth, students, young workers, socialists and trade unionists travelled from all parts of the country to take part in the first national YFJ demonstration. Their message was simple: we will not pay for the bankers' crisis! The one million unemployed under-25s and the massive cuts to education are provoking a fightback, which Youth Fight for Jobs is at the heart of.
---
>
Click to play or download video as a windows media file (opens in a separate window)
To download right click the link and select Save Target As...
---
>
Again, the campaign received considerable media coverage - print, radio and TV. In the last hour of the demo 108 new articles about Youth Fight for Jobs appeared online. One radio journalist asked about the 'angry' mood of the demo. Of course young people are angry at the expectation that they suffer for the bankers' crisis. But as this demonstration showed, in Youth Fight for Jobs that anger is channelled into an organised and effective show of unity and strength.
As the march passed Downing Street we stopped to deliver a 10,000-name strong petition to the prime minister, Gordon Brown. Unsurprisingly his butler informed us that 'no one was in'!
The demonstration marched over Lambeth Bridge into Geraldine Mary Harmsworth Park for the closing rally. Hannah Sell, deputy general secretary of the Socialist Party, spoke of how the crisis facing young people is an inevitable product of the capitalist system which ultimately must be replaced by a system based on meeting the needs of the majority of ordinary people - socialism.
Sarah Wrack, a student from Sussex University, spoke about the cuts being pushed in education. At Sussex this will mean more than 100 job cuts, cuts to courses and other student services, and this is just the first wave.
Banners and groups from the civil servants union, the PCS, and others showed that this is a movement which unites young people and the unions. Tracy Edwards, PCS young members organiser, spoke at the rally about the fight against the cuts and the conditions faced by young workers in the civil service.
Matt Wrack, general secretary of the Fire Brigades Union, described the attacks his members face, and reported that youth in the FBU are entering into struggle.
Neil Cafferky, who chaired the rally, urged everyone to visit the FBU picket lines with solidarity and support.
Johan Rivas, a trade unionist from Venezuela and member of the Committee for a Workers' International (the CWI is the world socialist organisation which the Socialist Party is affiliated to) spoke. Johan explained how the struggle against capitalism and for socialism is an international one.
In closing the rally, I outlined how Youth Fight for Jobs will be putting pressure on the politicians and would-be-politicians in the run up to the general election. Youth Fight for Jobs will draft a simple four-point manifesto to challenge candidates to back the campaign and its demands - no job cuts, no university cuts, no fees and create jobs.
Potential to grow
For what is still a relatively new campaign this was another major step forward. In the months between the launch of Youth Fight for Jobs at April's G20 meeting the campaign has reached the trade unions, the national media but most importantly young people sick of the way capitalism tosses them around like flotsam.
Youth Fight for Jobs has shown the potential to build a mass movement of young people against the effects of the recession. In the coming years the 28 November demo will be remembered as a landmark in the campaign, but also as a taster of the much bigger battles to come.
---
>
What the marchers said:
It's good to see so many young people turning out for an event like this. Clearly youth unemployment is a scandal and young people need to be organised if they're going to resist it. I think it's early stages but it's good timing.
Matt Wrack, Fire Brigades Union general secretary
The march was a really fantastic experience. To have so many socialists there who share the same beliefs was great. But I was angry about the megaphones not being allowed near parliament.
Stuart Walker, East 15 college Socialist Students
I came to show solidarity with students and unemployed people.
Most of the people that come to my college came from a previous sink school and statistics show that the secondary school you go to has a direct correlation to your job. There are plans to go into all the colleges in Hackney and to organise the youth.
Alex Davis, Hackney college
I went on the Socialist Party website to find out more and saw the link to the YFJ website. I wanted to march and get involved and find out more. It was the question of the EMA that motivated me. I have to travel from Maldon to Colchester and if the college didn't help me then my EMA would just about cover my transport and nothing else - not my books, not anything. I'm taking leaflets away with me to give out around my college.
Juliet Louise Checkland, Colchester VI form
We're here because we want free education. Universities are not businesses and we're here to protest at the government because they want to raise fees to £7,000 a year which students can't pay. We will continue with occupations and demonstrations until the government realises that students need free education. We will work with YFJ because our rules say we can unite with democratic organisations.
Abdullah Gurlek, association of students from Turkey
It was inspirational to see so many young people out protesting on the streets at a time when they're saying young people are feckless and don't care about politics.
Michael Callanan, Greenwich Unison
It was well worth it. Lots of people with the same thoughts on the same situation. Of course it is just a start and hopefully the government is going to eventually learn from us just how bad things really are and do something about it.
Edward, student at Coventry University
It was phenomenal to see so many people out fighting for our future. The support of trade unions and numerous different left groups was plain to see - a much appreciated show of unity. The campaign now has to grow into a mass movement the ruling class cannot ignore.
Dan, 6th form student and bar worker
It was great, everyone had an amazing time. We got to make loads of noise and raise some awareness. I'm so excited for the next march, even more people can rise up and together make the government listen.
Lucy, health care assistant (on a zero hour contract)
A great day fighting for youth rights. I learned a lot and really hope the rest of the public can get involved for a better future for us all.
Michaela, fast food worker
At the beginning of this month the UUP leader (Conservatives in Northern Ireland), Reg Empey was quoted as saying of the unemployed youth that "some of them are what we call the vampires". This march showed Empey and his ilk that the youth are not only willing to work but we are willing to fight for decent jobs and fight their cuts.
Eóin Dawson, London
At my first demo I was amazed at the pleasant and understanding nature of the reaction of the surrounding members of the public. It just shows there is support out there.
Neil Adshead, Rotherham
An excellent, noisy march right through central London on a busy Saturday afternoon. It's really inspiring to see how much this campaign has grown throughout the country this year from the increased turnout. A fantastic step for YFJ and I look forward to the next, even bigger demo!
Kyly Wilson, Coventry CWU
It was awe-inspiring to see the youth of this country uniting to achieve a better future. I felt honoured to be able to support them. Great atmosphere and rousing speeches. Disappointed but not surprised nobody was home at parliament.
Kath, Nuneaton
Why not click here to join the Socialist Party, or click here to donate to the Socialist Party.
---
In The Socialist 2 December 2009:

Climate change 'gigantic market failure'

Copenhagen climate change talks
---
Socialist Party NHS campaign

National Health Service: Patient safety not private profit
---
Youth fight for jobs

Youth march for jobs: "A fantastic experience"
---
Credit crunch

Dubai's house of sand crumbles
---
War and occupation

Chilcot inquiry: Put the warmongers on trial!
---
Socialist Party news and analysis

Fast news

Yorkshire strikes - the lessons

BA management get tough

Fighting university cuts

Fighting council cuts in Greenwich

Stoke Axiom action continues

Defend the Four!

NUS plans mean students pay
---
Anti-racism

Rally to oppose racist EDL

How mass campaigning closed BNP HQ
---
International socialist news and analysis

Irish Republic: Huge public sector workers' strike against cutbacks

Indonesia: Eyewitness report from Tamil refugee boat
---
Socialist Party election campaign

Politics 'illegal' in Lewisham council

Help give a socialist answer to cuts and privatisation
---
Marxist analysis: history

Liverpool council's budget 'black hole': Establishment parties only offer swingeing cuts
---
Home | The Socialist 2 December 2009 | Join the Socialist Party
---