Link to this page: https://www.socialistparty.org.uk/issue/605/8587
From The Socialist newspaper, 9 December 2009
Climate change summit: Coming up short in Copenhagen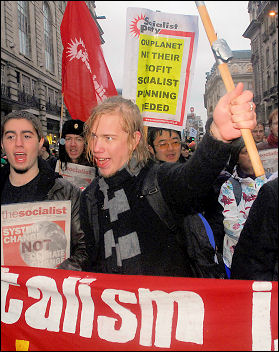 Climate change demo December 2007, photo Paul Mattsson
TENS OF thousands of people marched through central London to the Houses of Parliament on Saturday 5 December to demand action from the Labour government, and the world's leaders, ahead of the Copenhagen summit on climate change. Demonstrations also took place in Belfast and in Glasgow.
Dave Carr
Seizing the opportunity to bolster the government's 'green' credentials climate change secretary Ed Miliband joined the marchers and prime minister Gordon Brown went on TV to say how he would fight to achieve internationally binding cuts in greenhouse gas emissions at Copenhagen.
However, CO2 emissions in Britain actually increased during most of Labour's tenure and any agreement reached under capitalism is likely to be insufficient to halt a damaging rise in global temperatures - especially as one of the major emitters -the USA - hasn't even ratified the meagre greenhouse gas reduction targets of the 1997 Kyoto protocols.
Moreover, any agreement between capitalist states is likely to rest upon market-based schemes like carbon trading (see last week's Socialist) whereby rich countries can offset increasing greenhouse gas emissions by funding 'green projects' in poor countries.
The only way forward lies in shifting existing energy production to sustainable methods on an international basis but that requires cooperation and democratic planning of economic production on a worldwide scale - something that is impossible under capitalism.
Paying the price of global warming
A NEW poll of 15 countries found that most people want their governments to take steps to fight climate change, even if that entails costs.
Commissioned by the World Bank, the poll questioned 13,518 respondents in 15 nations - Bangladesh, China, Egypt, France, India, Indonesia, Iran, Japan, Kenya, Mexico, Russia, Senegal, Turkey, the United States, and Vietnam.
Concern about climate change is high worldwide, but it's generally higher in 'developing' countries.
However, it isn't necessary for workers struggling to get by under capitalism to underwrite the costs of measures to prevent global warming.
Unlike capitalist governments - who have given trillions of dollars to bailout fat cats and the failed banking system - a socialist government instead would provide massive investment in green jobs.
Socialist alternative
In Britain, for example, by properly insulating people's homes, building new energy efficient housing, projects to improve infrastructure such as high speed rail links, and developing sustainable energy production alternatives such as wind, wave and solar energy.
This would benefit workers by creating employment, satisfying public needs and also reducing greenhouse gas emissions.
If the Labour government was really serious about taking measures to stop global warming then they could have nationalised the Vestas wind turbine factory on the Isle of Wight, where workers occupied the plant to prevent its closure and 600 redundancies this year after its owners decided it wasn't profitable to keep it open.
A socialist, sustainable plan of production is vital to prevent disastrous and possibly irreversible damage to the environment.
Moreover, it is also necessary to convince working class people that the problem of climate change is one of capitalism and not their 'lifestyles', as some groups on Saturday's demonstrations were divisively arguing.
Why not click here to join the Socialist Party, or click here to donate to the Socialist Party.
---
In The Socialist 9 December 2009:

Corus steel closure: 'Bail out our jobs, not greedy bankers'
---
Corus closure

Nationalise Corus Steel

Youth Fight for Jobs campaigners speak out on Corus closure
---
Socialist Party editorial

Socialist nationalisation - the only way to save manufacturing jobs and end the bank bonus scandal

Teesside steel: No trust in big business 'solutions'
---
War and occupation

End the war in Afghanistan
---
Global Warming

Climate change summit: Coming up short in Copenhagen
---
Socialist Party news and analysis

Free the Tamil boat people

Fight the political witch-hunt in Unison

Fast news
---
Youth fight for jobs

Youth Fight for Jobs organises demo in Barking
---
Socialist Party workplace news

New Labour gift wraps Tyne and Wear Metro

Stoke Axiom workers escalate the action

Save jobs at Borders

Twinings workers fight job losses

Management bullying? Surely not...
---
Socialist Students

Uniting to stop cuts at Sussex

Starting Socialist Students at a Coventry sixth form

No to student civic service

Northampton protest against student loan delays
---
Socialist Party feature

The legacy of Charles Darwin
---
International socialist news and analysis

Solidarity with striking South African miners

Scotland: The national question and the general election
---
Anti-racism

English Defence League show themselves up
---
Socialist Party appeal

Christmas 2009 donation appeal

A present that can last all year - a subscription to The Socialist
---
Home | The Socialist 9 December 2009 | Join the Socialist Party
---