Link to this page: https://www.socialistparty.org.uk/issue/605/8602
From The Socialist newspaper, 9 December 2009
Youth Fight for Jobs campaigners speak out on Corus closure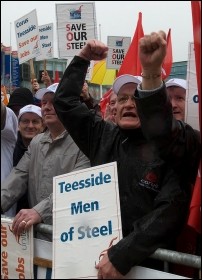 Corus steel workers on the Unite jobs demonstration in Birmingham, photo Paul Mattsson (Click to enlarge)
Paul Phillips, 21, Northern regional organiser of Youth Fight for Jobs said: "It is obvious that this government is not serious about safeguarding jobs. They are only interested in safeguarding the rich bankers and their large pay packets.
"This is a devastating blow not just to workers in Teesside but to the whole country. Yet none of the three major parties have come out in support of these workers showing that none of them represent workers in this country."
Hannah Walter, 24, Teesside, Unison national executive said, in a personal capacity: "The news that 1,700 jobs will be lost at Corus on Teesside is a devastating blow for local people.
"For youth in particular, with a 20% unemployment rate, this represents the destruction of more secure and well paid jobs on Teesside.
"The government has paid £850 billion to bail out the banks - but they cry 'poverty' when it comes to supporting ordinary working people.
"The trade unions should get behind the Corus workers and back any action they take, demanding that Corus is nationalised, not like the banks but under the democratic control of workers and the local community."
Why not click here to join the Socialist Party, or click here to donate to the Socialist Party.
---
In The Socialist 9 December 2009:

Corus steel closure: 'Bail out our jobs, not greedy bankers'
---
Corus closure

Nationalise Corus Steel

Youth Fight for Jobs campaigners speak out on Corus closure
---
Socialist Party editorial

Socialist nationalisation - the only way to save manufacturing jobs and end the bank bonus scandal

Teesside steel: No trust in big business 'solutions'
---
War and occupation

End the war in Afghanistan
---
Global Warming

Climate change summit: Coming up short in Copenhagen
---
Socialist Party news and analysis

Free the Tamil boat people

Fight the political witch-hunt in Unison

Fast news
---
Youth fight for jobs

Youth Fight for Jobs organises demo in Barking
---
Socialist Party workplace news

New Labour gift wraps Tyne and Wear Metro

Stoke Axiom workers escalate the action

Save jobs at Borders

Twinings workers fight job losses

Management bullying? Surely not...
---
Socialist Students

Uniting to stop cuts at Sussex

Starting Socialist Students at a Coventry sixth form

No to student civic service

Northampton protest against student loan delays
---
Socialist Party feature

The legacy of Charles Darwin
---
International socialist news and analysis

Solidarity with striking South African miners

Scotland: The national question and the general election
---
Anti-racism

English Defence League show themselves up
---
Socialist Party appeal

Christmas 2009 donation appeal

A present that can last all year - a subscription to The Socialist
---
Home | The Socialist 9 December 2009 | Join the Socialist Party
---