Link to this page: https://www.socialistparty.org.uk/issue/609/8751
From The Socialist newspaper, 27 January 2010
Lewisham Socialist Party prepares for election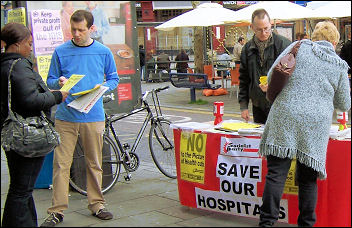 Lewisham Socialist Party campaiging against health cuts, photo Chris Newby
WITH A general election and council elections looming, all the main parties are boasting about the massive level of cuts they will make to public services, the worst cuts in forty years.
Chris Newby
While the government has handed billions of pounds to the banks, enabling them to keep paying out lavish bonuses, workers around the country are to be made to pay the price of this generosity through cuts in their jobs and services.
Even before these 'savage cuts', workers in Lewisham, south London, are facing cuts of up to £8 million in local services including the parks budget and benefit services and even increased cremation charges. New Labour Mayor, Steve Bullock, calls these cuts "uncontroversial" and says he wants to help people in Lewisham through these difficult economic times.
But these cuts will only make conditions worse for Lewisham people. It's not just New Labour; the Tories, Lib Dems and Greens all agree that cuts will have to be made. Lewisham's Socialist Party councillors, Ian Page and Chris Flood, are the only ones to stand up to these cuts and say that there is an alternative. Rather than paying out billions to the bankers the government should be paying out to maintain and improve public services.
As part of the Socialist Party's campaign, Ian and Chris have launched a petition calling for a campaign for the necessary extra funding from the government to prevent any cuts. Taking this petition around the doorsteps and using it on stalls we have received a very good response. We want to build a campaign that can force the government to put in the extra funding.
Ian and Chris are standing for re-election this year and Jess Leech is joining them as a third Socialist Party candidate in Telegraph Hill ward. Ian and Chris have a proud record of being the only consistent campaigners in defence of jobs and services. In 2007/08 they led a campaign involving local residents and community activists that twice defeated the council's plans to privatise council housing in New Cross.
In 2008 they played a leading part in the campaign that stopped the reduction in A&E services at Lewisham hospital. They have also consistently campaigned to defend education services in Lewisham including supporting the Save Lewisham Bridge School campaign.
With massive attacks on public services planned over the next few years we need councillors who will fight for an alternative to the cuts agenda of all the main parties. This year's elections provide that opportunity in Lewisham, through voting for Ian, Chris and Jess.
Why not click here to join the Socialist Party, or click here to donate to the Socialist Party.
---
In The Socialist 27 January 2010:

Prosecute the war criminal Blair
---
Credit crunch

Bonuses for bankers but recession for workers

Outrage against bankers spurs Obama on

Unemployment figures don't tell the full story
---
Socialist Party election campaign

Lewisham Socialist Party prepares for election

Support for the Trade Unionist and Socialist Coalition (TUSC) grows
---
Socialist Party news and analysis

Haiti: Survivors shackled by huge debt and poverty

Cadbury's bosses opt for a sugary takeover

Far right thugs invade Stoke

Food for thought
---
Socialist Party workplace news

Unison black members reject witch-hunt

South Yorkshire fire dispute Negotiations go national

Building the fight against education cuts at Leeds

Glasgow City Unison fights back against cuts in jobs and services

Visteon pensioners protest

Temperature rises at British Airways

Ticket office staff strike again
---
Socialist Students

University of Gloucestershire staff fight back

Cuts at Cardiff University must be fought
---
Socialist Party feature

Imperialism in Africa today
---
Workplace Feature: IT workers in mini strike wave

PCS members at Hewlett Parkard strike in Lytham St Annes and North Tyneside

Seventh day of national strike action at Fujitsu IT
---
Home | The Socialist 27 January 2010 | Join the Socialist Party
---