Link to this page: https://www.socialistparty.org.uk/issue/609/8756
From The Socialist newspaper, 27 January 2010
Unison black members reject witch-hunt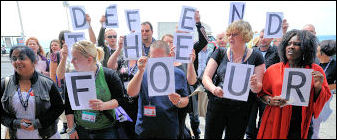 Defend the Four protest, Unison conference , photo Paul Mattsson
"Unless Mr Kasab and his colleagues are punished, black Unison members can have no confidence in the union fighting racism." These were the words of the Unison national officer who acted as the prosecution in the union's case against four Socialist Party members.
A Unison member
Yet, in the first week of the attacks, in June 2007, a black Unison member told the Socialist Party fringe meeting at the union's national conference: "They are not going to use the colour of my skin for their own purposes."
From the outset, the union leadership have been prepared to misuse the issue of racism. The long campaign to defend the four has shown that this is in fact a political witch-hunt.
Black members in Greenwich Unison have been to the forefront in expressing outrage at the charges against their Unison branch secretary, Onay Kasab. Many have said that if the ban on him holding union office is upheld, they will have no hesitation in resigning their union membership.
A recent meeting of Unison's national black members' committee was attended by general secretary Dave Prentis. There are over 260 BNP members in the union and he was questioned about the lack of action on this. Members also called for the union to reconsider its action against the four, as the sanctions were too harsh.
Then last week Unison held its annual national black members' conference. Onay Kasab was the delegate from Greenwich. He spoke in the debate on fighting the BNP about his role in leading the strike action at Hither Green back in 1988 against the fascist Skeggs and the role of Greenwich Unison in the campaign to close the BNP headquarters in Welling. Both campaigns were successful.
He told the conference that as a result he had received racist hate mail and had been targeted by racists. Finally he spoke of the scandal of the lack of action against the BNP members in Unison. He compared this with the treatment of the four and demanded an end to the witch-hunt.
He received several ovations during the three minutes he was allowed to speak. This obviously frustrated the general secretary who was sitting behind the podium. Several delegates reported that his face looked like thunder!
Delegate after delegate approached Kas after his speech, to congratulate him and to condemn the witch-hunt.
Why not click here to join the Socialist Party, or click here to donate to the Socialist Party.
---
In The Socialist 27 January 2010:

Prosecute the war criminal Blair
---
Credit crunch

Bonuses for bankers but recession for workers

Outrage against bankers spurs Obama on

Unemployment figures don't tell the full story
---
Socialist Party election campaign

Lewisham Socialist Party prepares for election

Support for the Trade Unionist and Socialist Coalition (TUSC) grows
---
Socialist Party news and analysis

Haiti: Survivors shackled by huge debt and poverty

Cadbury's bosses opt for a sugary takeover

Far right thugs invade Stoke

Food for thought
---
Socialist Party workplace news

Unison black members reject witch-hunt

South Yorkshire fire dispute Negotiations go national

Building the fight against education cuts at Leeds

Glasgow City Unison fights back against cuts in jobs and services

Visteon pensioners protest

Temperature rises at British Airways

Ticket office staff strike again
---
Socialist Students

University of Gloucestershire staff fight back

Cuts at Cardiff University must be fought
---
Socialist Party feature

Imperialism in Africa today
---
Workplace Feature: IT workers in mini strike wave

PCS members at Hewlett Parkard strike in Lytham St Annes and North Tyneside

Seventh day of national strike action at Fujitsu IT
---
Home | The Socialist 27 January 2010 | Join the Socialist Party
---