Link to this page: https://www.socialistparty.org.uk/issue/613/8878
From The Socialist newspaper, 24 February 2010
Labour, Tories, LibDems
NHS: Not safe in their hands!
"YOU CALL this cuts - I'm not scared to say cuts... The amount of money available to the NHS is decided by the government. We will have less money to meet rising demands... There are hard decisions to be made. I have to balance the books."
That was the £140,000 a year chief executive of North Central London NHS (NCL) trying to explain to 350 people at a protest meeting why NCL were discussing seven different "scenarios" to cut £560 million from its £2.27 billion budget by 2016-17.
These NHS bureaucrats, who blame the "global recession", plan to cut services at local hospitals, particularly closing some Accident and Emergency (A&E) departments.
Highly paid NHS officials put a positive spin on this, proposing to set up enlarged neighbourhood health centres ("Urgent Care Centres") outside hospital entrances and saying that long-term treatment for conditions like asthma and diabetes should move to new 'polyclinics'.
But, whatever the merits of polyclinics in an integrated health system, they are being promoted now as a way both of cutting spending and providing further opportunities to effectively privatise health services.
There is widespread opposition to these cuts - one north London hospital, the Whittington, treats 80,000 A&E patients annually. With a general election and London borough elections pending, all the local political parties have been protesting, but none gets to the root of the crisis in NHS spending.
Some election candidates just say: no cuts in 'my' borough. This helps NHS bureaucrats play a 'divide and rule' game.
So while Labour leaders insist that the National Health Service is safe, proposed cuts in services countrywide threaten to hit the NHS hard.
Campaigns against local NHS cuts and closures need to be linked to the wider battle. The economy's decline and the huge amounts spent bailing out the banks have brought mounting pressure for cuts in working peoples' living standards and services.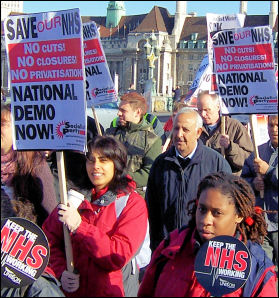 Demonstration against cuts in the NHS, 1 November 2006, photo Alison Hill
Determined local campaigns with protest rallies, meetings, lobbies and demonstrations can save particular NHS facilities, and such victories are welcome.
But as national cuts are being prepared, we also need a generalised nationwide campaign that challenges the government's policies; otherwise repeated anti-cuts campaigns will be unavoidable.
The Tories will probably be worse than Labour on the NHS, but this is no reason to go soft on the Labour government's plans. Unfortunately this is what many trade union leaders and backbench Labour MPs have done.
Alongside local campaigns, the longer term battle to save and improve the NHS needs a real socialist alternative to the Labour, Tory and LibDem parties' pro-capitalist policies.
In the coming election, candidates from the Trade Unionist and Socialist Coalition (TUSC) can vitally help link together different local campaigns. This should be part of a drive to build a national movement to resist the bosses' efforts to make working people pay for the economic crisis.
Camden Socialist Party members
Why not click here to join the Socialist Party, or click here to donate to the Socialist Party.
---
In The Socialist 24 February 2010:

NHS: Not safe in their hands!

Private 'vultures' to run NHS hospital

How to stop cuts and defend public services

Demo opposes £29m Notts county cuts
---
Youth fight for jobs

Young people deserve a future: Join the Manchester march for jobs on 13 March

Youth Fight for Jobs Demonstrations
---
Trade Unionist and Socialist Coalition (TUSC)

RMT branch supports challenge to Denham

Support the TUSC election challenge

Trade Unionist and Socialist Coalition General Election launch rally
---
Socialist Party news and analysis

British Airways cabin crew v management: Round two

Anger on Teesside over Corus closure

ID cards - an expensive threat to civil liberties

Tories attack community café...

Yarl's Wood hunger strike

Fast news
---
Comment

The Eton co-op won't work
---
Unison witch-hunt

Nominate Roger Bannister: Unison's leadership battle

Unison witch-hunt continues
---
Workplace news and analysis

South Wales: Demo against council cuts

Staythorpe: the fight for workplace safety

Port workers battle bosses... and high court

Jobcentre staff fight cuts

Leeds university: Support lecturers striking to save jobs

Fighting leadership needed for UCU

CWU women vote for political review
---
International socialist news and analysis

CWI Latin America school: A continent on the brink

Iraq: All eyes on the oil prize
---
Socialist Party news and analysis

Campaigning rights victory: But questions remain on new Waltham Forest policy
---
Anti-racism

How can the racist BNP be defeated?

Scottish Defence League defeated: Working class political alternative urgently needed
---
Home | The Socialist 24 February 2010 | Join the Socialist Party
---