Link to this page: https://www.socialistparty.org.uk/issue/617/9061
From The Socialist newspaper, 29 July 2010
Woolwich and Greenwich: For a workers' MP on a worker's wage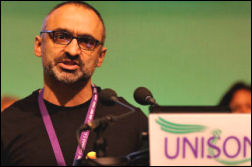 Onay Kasab, TUSC candidate for Greenwich, photo Paul Mattsson
ONAY 'KAZ' Kasab, the TUSC general election candidate in Woolwich and Greenwich has condemned local authorities who pay large sums to chief officers while cutting pay for the lower paid. Greenwich is looking to make huge 'savings' of £30 million over the next three years.
Council plumbers recently struck in protest at a 50% pay cut in some cases. Care managers who prepare care packages for the elderly are due to see pay cuts of over £5,000 a year and have called on their union to let them take action to defend their pay. While cutting jobs, Greenwich council also want to slash terms and conditions for the lower paid, including redundancy entitlements from May.
In 433 councils, 2,056 officials received at least £100,000 each in salary, bonuses, severance payments and other benefits in 2008-9. In 2003-4 the figure was 391. In Greenwich six officers earned at least £100,000 in 2003-4. By 2008-9 this had gone up to 23.
As Kaz says: "For the lower paid it's pay cuts and redundancy, while for those higher up the scale life can only get better. I challenge candidates from the main parties to condemn both the attacks on council workers' pay and conditions and the increased rewards for already well paid senior managers."
TUSC pledges to defend public services from cuts and privatisation, and demands that those who caused the economic crisis pick up the bill, not the working and middle class.
Onay Kasab is standing to be a "workers' MP on a worker's wage" taking only the average wage of a skilled worker and will only claim expenses essential for the job, making any expenses claims public each month by sending details to the constituency, and letting the local electorate audit any claims.
Kaz says: "I do not want to get elected to make money. I want to get elected to speak for the people. Many will not vote in this election because they see all politicians as the same.
By standing as a "workers' MP on a worker's wage", I am offering the chance to vote for something different, a real alternative."
Donate to the Socialist Party
Finance appeal
The coronavirus crisis has laid bare the class character of society in numerous ways. It is making clear to many that it is the working class that keeps society running, not the CEOs of major corporations.
The results of austerity have been graphically demonstrated as public services strain to cope with the crisis.
The government has now ripped up its 'austerity' mantra and turned to policies that not long ago were denounced as socialist. But after the corona crisis, it will try to make the working class pay for it, by trying to claw back what has been given.
The Socialist Party's material is more vital than ever, so we can continue to report from workers who are fighting for better health and safety measures, against layoffs, for adequate staffing levels, etc.
When the health crisis subsides, we must be ready for the stormy events ahead and the need to arm workers' movements with a socialist programme - one which puts the health and needs of humanity before the profits of a few.
Inevitably, during the crisis we have not been able to sell the Socialist and raise funds in the ways we normally would.
We therefore urgently appeal to all our viewers to donate to our Fighting Fund.
---
In The Socialist 29 July 2010:

Strikers can beat BA bosses

BA cabin crew can win

Message of support for striking BA workers from Socialist Party MEP Joe Higgins:

Striking British Airways cabin crew pickets speak to The Socialist
---
Trade Unionist and Socialist Coalition

Support trade union and socialist alternative: Workers reject main parties

Trade unionist and Socialist Coalition

Salford: The growth of 'Hazel Must Go!'

Woolwich and Greenwich: For a workers' MP on a worker's wage

Stoke Central: Fighting for the millions not the millionaires

Trade unionist and Socialist Coalition general election launch rally
---
Parliamentary Sleaze

'MPs for hire' scandal

Hewitt's big business alliance

New workers' party needed

MPs: in it for the money
---
Anti-racism

Far-right EDL outnumbered in Bolton, police try to even the odds!

EDL attend anti-racist meeting

Nottingham anti-EDL anti-BNP conference
---
Socialist Students

Sussex: Students gain a victory - but fight must go on!

Cuts to higher education announced: Students fight back

Socialist Party youth meeting

On the march against cuts
---
Marxist analysis: history

March 1990 anti-poll tax demonstration
---
International socialist news and analysis

Massive rejection of Sarkozy's policies presages a 'third round on the streets'

Obama's neutered health bill limps through
---
Socialist Party news and analysis

Nottingham council targets the vulnerable

Dickens is back: Implications of poverty revealed in London

Barking council: Late developers

Battling against school academies in Hastings
---
Socialist Party workplace news

HP workers take further action

Rail safety disputes
---
Home | The Socialist 29 July 2010 | Join the Socialist Party
---