Link to this page: https://www.socialistparty.org.uk/articles/9117
Posted on 1 April 2010 at 14:59 GMT
Visteon pensioners demand Ford pays what it owes
Alec Thraves, Swansea Socialist Party, travelled from Swansea with two coach loads of Visteon pensioners and supporters and sent us this report.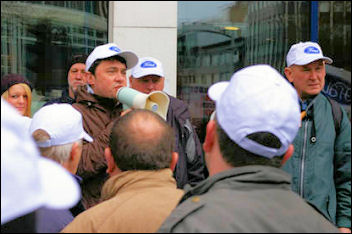 Rob Williams on the Visteon protest, photo by Alec Thraves
Hundreds of Visteon pensioners and their supporters marched through central London on 31 March to protest against cuts in their pensions due to the greed of their previous employers, Ford.
Visteon was hived off from Ford in 2000 and its workers were told their pensions would be safe and protected for life.
When Visteon went into administration, exactly a year ago, the workers were forced to occupy their factories in Belfast, Enfield and Basildon to get a decent redundancy deal which was ultimately won by putting pressure on Ford.
Unfortunately, the Visteon pensioners have not been bailed out by Ford and have instead seen their pensions drop dramatically under the Pension Protection Fund.
Profit driven multinational
Rob Williams, UNITE Convener at Linamar in Swansea (Ex Ford/Visteon) told the rally outside the UNITE headquarters that Visteon pensioners expect our union to take this profit driven multinational to court, so that its ex-employees can get back the money they have paid in for decades.
Some pensioners are already losing up to £350 a month!
Roger Maddison, the UNITE national official responsible for dispute said a decision to go to court would be made on 14 April.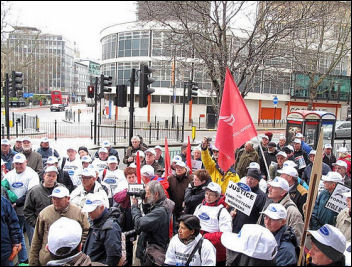 Visteon / Ford UNITE pension protest in London 31.03.10, photo by The Other Bailey, flickr
The protesters handed in a petition to Downing Street signed by two thousand members and then gathered at Parliament Square for a final rally.
Police prevented the demonstrators from marching on the streets so the sight of 400+ protesters wearing 'Fraud' baseball caps and T shirts, waving placards and marching down the City of London's pavements definitely highlighted the campaign for the general public as well as the tourists.
UNITE has to grasp the nettle and take on another bully boy company who are attacking workers who have given their lives to the Ford Motor Company and are being repaid by a kick in the teeth.
Why not click here to join the Socialist Party, or click here to donate to the Socialist Party.
---