Link to this page: https://www.socialistparty.org.uk/issue/619/9316
From The Socialist newspaper, 7 April 2010
6 May general election:
Reject the parties of cuts and privatisation
THE RUN up to the general election on 6 May has seen all the main parties promising to carry out savage cuts in public spending and to step up the attacks on working class communities. Why? Because they are united in believing that we - not the rich - should be paying the price for an economic crisis that we did not create.
Philip Stott, Scottish Trade Unionist and Socialist Coalition and International Socialists
Alistair Darling has boasted that if elected, New Labour's cuts will be deeper than those when Margaret Thatcher was in power. The Tories have made it clear that they will declare all-out war on public services, while the Lib Dems have promised "savage cuts".
Councillors in these three parties have implemented cuts in local councils across Britain, and in Scotland the SNP in local councils and at Holyrood has also taken an axe to jobs, services and the pay of public sector workers. We cannot afford to accept the lies of the main big business parties.
We didn't create this crisis. It was caused by the policies and actions of the bankers, the rich capitalists and their friends from all the main political parties, who put greed and profits before the interests of ordinary working class people.
It is nothing short of stinking hypocrisy to see MPs fiddling their expenses, pocketing pay rises and massive pensions beyond the dreams of low-paid workers, then they have the front to tell us that we have to pay the bill for their mistakes and greed. They are not on.
It's no surprise that trade unionists in the public and private sector have been taking strike action recently in defence of their jobs and working conditions. BA cabin crew, civil servants and railworkers have all been on strike against the onslaught that we all face by employers and the government.
What choice is there for workers, given the anti-trade union policies of New Labour, the Tories and the Lib Dems, other than to fight?
Tory leader David Cameron has praised Thatcher's anti-union crusade in the 1980s. Lib Dem leader Nick Clegg welcomed the defeat of the miners in 1984-85. And New Labour, after 13 years in power has not repealed even one of the draconian anti-trade union laws introduced by Thatcher.
The SNP leadership have come out against the RMT workers' strike at Scotrail. Their MSPs even criticised a Labour MSP who refused to cross a PCS picket line at the Scottish parliament recently.
Alternative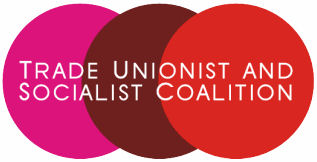 So who do workers, trade unionists and young people looking for an alternative turn to in this election? The Trade Unionist and Socialist Coalition (TUSC) has been set up precisely to give us a voice and one that stands up for workers in struggle.
TUSC is supported by important leaders of trade unions, including those who have been taking strike action recently. They include (all in a personal capacity) Bob Crow of the railworkers' RMT union, Janice Godrich and Chris Baugh of the PCS union, and Brian Caton, leader of the Prison Officers Association. Many other trade unionists with positions at a national or local level are supporting the new coalition.
TUSC is standing to offer a socialist alternative to the parties of the rich. We are standing for public ownership, not privatisation. For making the rich bankers and bosses pay for their economic crisis. Against cuts in public spending and in support of a united struggle against those bosses and big business politicians who want us to pay.
The Socialist Party in England and Wales and the International Socialists in Scotland are playing a central role in TUSC. Over 40 candidates are standing under the TUSC umbrella across Britain, including ten in Scotland. We are standing in the general election to oppose the onslaught of the bosses and to give working class people a real alternative to the misery of capitalism, poverty and cuts.
Donate to the Socialist Party
Coronavirus crisis - Finance appeal
The coronavirus crisis has laid bare the class character of society in numerous ways. It is making clear to many that it is the working class that keeps society running, not the CEOs of major corporations.
The results of austerity have been graphically demonstrated as public services strain to cope with the crisis.
The government has now ripped up its 'austerity' mantra and turned to policies that not long ago were denounced as socialist. But after the corona crisis, it will try to make the working class pay for it, by trying to claw back what has been given.
The Socialist Party's material is more vital than ever, so we can continue to report from workers who are fighting for better health and safety measures, against layoffs, for adequate staffing levels, etc.
Our 'fighting coronavirus workers' charter', outlines a programme to combat the virus and protect workers' living conditions.
When the health crisis subsides, we must be ready for the stormy events ahead and the need to arm workers' movements with a socialist programme - one which puts the health and needs of humanity before the profits of a few.
Inevitably, during the crisis we have not been able to sell the Socialist and raise funds in the ways we normally would.
We therefore urgently appeal to all our viewers to donate to our special coronavirus appeal.
---
In The Socialist 7 April 2010:

Defend jobs and services - Fight for a workers' alternative - Vote TUSC

General Election 6 May: A Socialist Challenge
---
Socialist Party editorial

Mobilise to defend the right to strike

London Underground workers balloting
---
Socialist Party election campaign

Stand up for the millions, not the millionaires!

Reject the parties of cuts and privatisation

Socialist Campaign launched in Coventry

New Labour meltdown in Stoke

Making an impact in Huddersfield

Hazel Must Go! opposes cuts to Salford NHS

Trade Unionist and Socialist Coalition
---
Socialist Party campaigns

Cuts bite in north west

March to defend the welfare state

Tories reveal yet more anti-gay bias

'Free schools' or free-for-all?

News in brief
---
Socialist Party workplace news

NUT conference again calls for action on workload

Ex-Visteon workers continue fight for pensions

Industrial news in brief
---
Socialist Students

Mobilise students and workers to defeat cuts and tuition fees
---
International socialist news and analysis

Kazakhstan: "change the politicians - or they will change you!"

Mass protests and strikes continue to shake Algeria

Tekel workers brutally attacked by police
---
Comment

The real lessons of the poll tax
---
Home | The Socialist 7 April 2010 | Join the Socialist Party
---