Link to this page: https://www.socialistparty.org.uk/issue/619/9328
From The Socialist newspaper, 7 April 2010
Making an impact in Huddersfield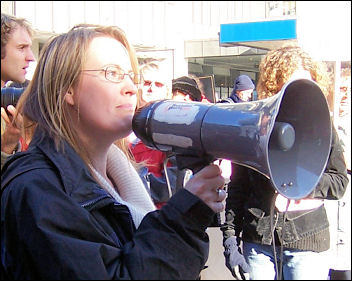 Jackie Grunsell, Save Huddersfield NHS campaign councillor in 2006, photo Alison Hill
"IT'S A shame that they don't have a column on the voting paper that says 'none of the above' when you go to vote" was the comment of one voter who summed up the mood of hundreds of people we met on the Easter weekend of action in Huddersfield.
Mike Forster
Every day over Easter we canvassed and ran stalls in support of the re-election of Jackie Grunsell to Kirklees council. Slowly we are starting to make an impact although one or two were startled to find us on their doorstep at 10.30am on Easter morning. One very generous supporter invited all nine of us into his house for a warming cup of tea and biscuits!
There has been very little opposition to our ideas and leaflets, but people remain very sceptical of the whole political system, and politicians in particular. There is understandable anger against the bankers, corrupt MPs and the government.
Our challenge is to cut through the cynicism people feel and ensure they turn out in force to return Jackie Grunsell for a second term. Voters also need convincing that there is an alternative to the cuts agenda being rammed down everyone's throats by the mainstream parties.
Our overwhelmingly young canvassing teams are up to the challenge and are impressing voters with their enthusiasm, understanding and commitment to the cause. If these alone were the ingredients to win elections, we would be already home and dry.
The campaign has really only just begun. Already we have knocked on every door in Jackie's Crosland Moor and Netherton ward, and our canvass card returns show a healthy level of support for a second victory. We will now be returning to every household again to catch up on all those who were out and reassure those people who are still undecided that there really is only one candidate worth voting for.
Not a single day will be wasted between now and 6 May! Over the weekend, over 60 copies of The Socialist were sold and £70 was raised for our fighting fund.
Why not click here to join the Socialist Party, or click here to donate to the Socialist Party.
---
In The Socialist 7 April 2010:

Defend jobs and services - Fight for a workers' alternative - Vote TUSC

General Election 6 May: A Socialist Challenge
---
Socialist Party editorial

Mobilise to defend the right to strike

London Underground workers balloting
---
Socialist Party election campaign

Stand up for the millions, not the millionaires!

Reject the parties of cuts and privatisation

Socialist Campaign launched in Coventry

New Labour meltdown in Stoke

Making an impact in Huddersfield

Hazel Must Go! opposes cuts to Salford NHS

Trade Unionist and Socialist Coalition
---
Socialist Party campaigns

Cuts bite in north west

March to defend the welfare state

Tories reveal yet more anti-gay bias

'Free schools' or free-for-all?

News in brief
---
Socialist Party workplace news

NUT conference again calls for action on workload

Ex-Visteon workers continue fight for pensions

Industrial news in brief
---
Socialist Students

Mobilise students and workers to defeat cuts and tuition fees
---
International socialist news and analysis

Kazakhstan: "change the politicians - or they will change you!"

Mass protests and strikes continue to shake Algeria

Tekel workers brutally attacked by police
---
Comment

The real lessons of the poll tax
---
Home | The Socialist 7 April 2010 | Join the Socialist Party
---