Link to this page: https://www.socialistparty.org.uk/issue/619/9338
From The Socialist newspaper, 7 April 2010
General election 6 May: a socialist challenge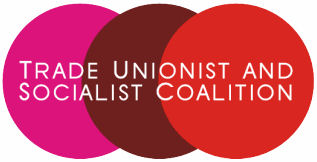 The Trade Unionist and Socialist Coalition (TUSC) is a coalition for the millions, not the millionaires. Contact TUSC to help build its election campaigns or invite TUSC candidates to speak at your union branch or workplace.
Click here for more about TUSC
Click here to go to the TUSC website
TUSC has no big business sponsorship. Every donation to TUSC strengthens the fight for a better future.
Donations can be made online at www.tusc.org.uk or sent to:
TUSC,
17 Colebert House,
Colebert Avenue,
London E1 4JP
Make cheques payable to Trade Unionist and Socialist Coalition. Email: info@tusc. org.uk
Donate to the Socialist Party
Coronavirus crisis - Finance appeal
The coronavirus crisis has laid bare the class character of society in numerous ways. It is making clear to many that it is the working class that keeps society running, not the CEOs of major corporations.
The results of austerity have been graphically demonstrated as public services strain to cope with the crisis.
The government has now ripped up its 'austerity' mantra and turned to policies that not long ago were denounced as socialist. But after the corona crisis, it will try to make the working class pay for it, by trying to claw back what has been given.
The Socialist Party's material is more vital than ever, so we can continue to report from workers who are fighting for better health and safety measures, against layoffs, for adequate staffing levels, etc.
Our 'fighting coronavirus workers' charter', outlines a programme to combat the virus and protect workers' living conditions.
When the health crisis subsides, we must be ready for the stormy events ahead and the need to arm workers' movements with a socialist programme - one which puts the health and needs of humanity before the profits of a few.
Inevitably, during the crisis we have not been able to sell the Socialist and raise funds in the ways we normally would.
We therefore urgently appeal to all our viewers to donate to our special coronavirus appeal.
---
In The Socialist 7 April 2010:

Defend jobs and services - Fight for a workers' alternative - Vote TUSC

General Election 6 May: A Socialist Challenge
---
Socialist Party editorial

Mobilise to defend the right to strike

London Underground workers balloting
---
Socialist Party election campaign

Stand up for the millions, not the millionaires!

Reject the parties of cuts and privatisation

Socialist Campaign launched in Coventry

New Labour meltdown in Stoke

Making an impact in Huddersfield

Hazel Must Go! opposes cuts to Salford NHS

Trade Unionist and Socialist Coalition
---
Socialist Party campaigns

Cuts bite in north west

March to defend the welfare state

Tories reveal yet more anti-gay bias

'Free schools' or free-for-all?

News in brief
---
Socialist Party workplace news

NUT conference again calls for action on workload

Ex-Visteon workers continue fight for pensions

Industrial news in brief
---
Socialist Students

Mobilise students and workers to defeat cuts and tuition fees
---
International socialist news and analysis

Kazakhstan: "change the politicians - or they will change you!"

Mass protests and strikes continue to shake Algeria

Tekel workers brutally attacked by police
---
Comment

The real lessons of the poll tax
---
Home | The Socialist 7 April 2010 | Join the Socialist Party
---