Link to this page: https://www.socialistparty.org.uk/issue/620/9357
From The Socialist newspaper, 14 April 2010
RMT union challenges far-right in Barking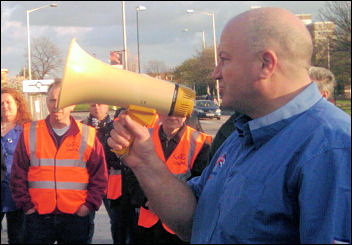 RMT general secretary Bob Crow speaking in Barking, east London, photo Senan
THE RMT rail workers' union called a meeting in Barking on Sunday 11 April. The aim was to convince people in Barking, who are understandably angry with New Labour's cuts record, not to vote for the far-right, racist British National Party in protest.
Unfortunately the theatre where the rally was booked cancelled two days before the meeting, saying they couldn't host 'political' events. Nonetheless around 100 people turned up to hear Bob Crow, general secretary of the RMT transport workers' union, and other activists speak outside the theatre.
Bob Crow and others from the RMT made it absolutely clear that they did not support New Labour either and that a new party was needed. The Trade Unionist and Socialist Coalition was proposed as an important step towards that.
Suzanne Beishon, London Youth Fight for Jobs (YFJ) organiser, reported on the recent YFJ demonstration in Barking. The case for uniting young people on the basis of fighting for jobs, homes and services was warmly received.
Why not click here to join the Socialist Party, or click here to donate to the Socialist Party.
---
In The Socialist 14 April 2010:

Main parties promise more of the same rotten cuts agenda

Voters face 'slash and burn' policies whoever wins election

Help build a socialist alternative in the general election
---
Socialist Party manifesto 2010

Socialist Party manifesto 2010
---
Socialist Party news and analysis

Afghanistan: Bring the troops back

Kyrgyzstan - dictator overthrown

News in brief

Defend welfare and public services

RMT union challenges far-right in Barking
---
Socialist Party workplace news

Postal workers call for 'no' vote on deal

NUT conference calls for 24-hour public sector strike

Newcastle University - support staff face attacks on jobs and pay

STOP PRESS - BA dispute

National Shop Stewards Network 2010 conference
---
Socialist Party election campaign

Lewisham - standing on our fighting record

Coventry's city-wide socialist election challenge
---
International socialist news and analysis

Russia: Putin - ten years of the man that no-one knew
---
Socialist Party features

Emperor's new clothes: the bosses' pet management theories

20 years ago: the Strangeways prison riot
---
Home | The Socialist 14 April 2010 | Join the Socialist Party
---