Link to this page: https://www.socialistparty.org.uk/issue/621/9403
From The Socialist newspaper, 21 April 2010
Lewisham councillors' record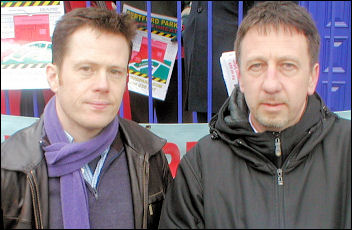 Ian Page and Chris Flood Lewisham Socialist Party councillors, photo Socialist Party
The Telegraph Hill ward in the south east London borough of Lewisham has been represented by socialist councillors for 15 years.
Socialist Party members, Ian Page and Chris Flood, are the current socialist councillors in Telegraph Hill wards.
Over the years the local party branch has produced regular editions of a newsletter, Socialist News, to keep local residents informed on what their councillors are doing.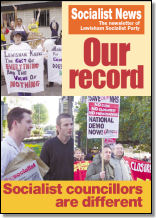 Lewisham Socialist News - Our record
The last four years' newsletters have now been pulled together into a comprehensive report on the activities and voting record of our socialist councillors Ian Page and Chris Flood - and the other parties' records too!
Copies of the report are available for sale at £2 per copy. Please note that payment is required in advance and cheques should be made payable to London Socialist Party or LSP.
Please make orders by contacting Jess Leech, Lewisham Socialist Party on: jessica.leech@gmx.com
Why not click here to join the Socialist Party, or click here to donate to the Socialist Party.
---
In The Socialist 21 April 2010:

Stop these savage cuts: support the socialist alternative
---
Youth fight for jobs

Young people facing a fight for their future

National Union of Students conference: Campaign needed against fees and cuts
---
Socialist Party editorial

Left candidates excluded from media
---
LibDem Surge

Big business as usual for Liberal Democrats

TV debate - Party leaders compete for the same policies
---
Transport

Volcanic eruption brings travel chaos: Planned and integrated transport system vital

Planes, trains and automobiles
---
Socialist Party news and analysis

Cameron turns back clock on women's rights

Banks use microloans to fleece poor

Fast news
---
Socialist Party election campaign

Doncaster - Jarvis's vicious sackings and workers' fightback

Portsmouth North: "An ordinary guy to represent ordinary workers"

Lewisham councillors' record

Trade Unionist and Socialist Coalition

Coventry: Standing up for public services

Colne Valley / Huddersfield: Kirklees' only fighting councillor

Spelthorne: "The trade union candidate guy"

A chance to put your questions to your local Trade Unionist and Socialist Coalition candidates.
---
Anti-racism

Why the BNP offers no way forward for working class people

Anti-BNP protest
---
International socialist news and analysis

Progressive Workers Federation of Pakistan founded

Sri Lanka parliamentary elections: Rajapaksa's clan consolidates its rule
---
Socialist Party features

National Care Service - fact or fiction?

1936 - A play about the Olympics
---
Socialist Party workplace news

Vote to boycott SATs

Civil service dispute continues

Fighting cuts at Coventry council

Strike ballot at Manchester Metropolitan University

Unison health conference

Laundry workers fight closure

Dover trade unions against privatisation

National Shop Stewards Network 2010 conference:
---
Home | The Socialist 21 April 2010 | Join the Socialist Party
---