Link to this page: https://www.socialistparty.org.uk/issue/621/9422
From The Socialist newspaper, 21 April 2010
Vote to boycott SATs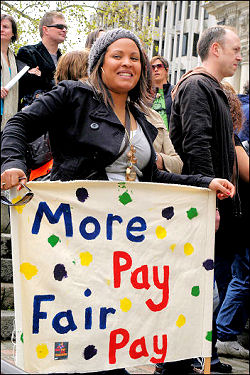 Teachers on strike on the 24th April , photo Paul Mattsson
The two main unions representing primary headteachers have both returned clear majorities in support of a boycott of this May's English and maths Key Stage 2 SATs tests for eleven year-olds.
Martin Powell-Davies, Lewisham NUT
Worried by recent legal threats against other unions, the NUT followed advice that it should only ballot members of the 'leadership group' who have the direct responsibility for administering SATs. The NAHT only represents these staff. So these results show the strength of opposition to the damage that SATs have inflicted on primary education even among school 'managers'.
Many heads and deputies, as well as classroom teachers, have seen their schools unfairly condemned as 'failing' through crude league tables of SATS results that take no account of the many different challenges facing schools. This bullying testing regime has enforced a narrowing of the curriculum. Many year six students have to spend much of their final year of primary education preparing for SATs. The administration of the tests also wastes £23 million a year.
NUT and NAHT members now have the opportunity to send a clear message to an incoming government that this wasteful and unreliable system has to be replaced with an assessment system that properly supports teaching and learning. Heads and classroom teachers must work together to build as widespread a boycott as possible.
Some parents, and perhaps some staff, may feel that it would be wrong to boycott now that so much of the 'drilling' in preparation for the SATs has already been done. They are mistaken. If even a partial boycott is launched this year, then teachers will feel more confident to stop 'teaching to the test' with a new year six from September.
The decision on whether to use the ballot results to launch a boycott rests with the NAHT national council meeting on 20 April and the NUT national executive meeting the following day. They must take the bold step of sanctioning the action that can start to get rid of these useless tests that have been imposed on schools for far too long.
NUT ballot result: (turnout 33.8%) 'YES': 1,853 (74.9%) 'NO': 622 (25.1%)
NAHT ballot result: (turnout 49.7%) 'YES' 5,360 (61.3%) 'NO' 3,386 (38.7%)
Why not click here to join the Socialist Party, or click here to donate to the Socialist Party.
---
In The Socialist 21 April 2010:

Stop these savage cuts: support the socialist alternative
---
Youth fight for jobs

Young people facing a fight for their future

National Union of Students conference: Campaign needed against fees and cuts
---
Socialist Party editorial

Left candidates excluded from media
---
LibDem Surge

Big business as usual for Liberal Democrats

TV debate - Party leaders compete for the same policies
---
Transport

Volcanic eruption brings travel chaos: Planned and integrated transport system vital

Planes, trains and automobiles
---
Socialist Party news and analysis

Cameron turns back clock on women's rights

Banks use microloans to fleece poor

Fast news
---
Socialist Party election campaign

Doncaster - Jarvis's vicious sackings and workers' fightback

Portsmouth North: "An ordinary guy to represent ordinary workers"

Lewisham councillors' record

Trade Unionist and Socialist Coalition

Coventry: Standing up for public services

Colne Valley / Huddersfield: Kirklees' only fighting councillor

Spelthorne: "The trade union candidate guy"

A chance to put your questions to your local Trade Unionist and Socialist Coalition candidates.
---
Anti-racism

Why the BNP offers no way forward for working class people

Anti-BNP protest
---
International socialist news and analysis

Progressive Workers Federation of Pakistan founded

Sri Lanka parliamentary elections: Rajapaksa's clan consolidates its rule
---
Socialist Party features

National Care Service - fact or fiction?

1936 - A play about the Olympics
---
Socialist Party workplace news

Vote to boycott SATs

Civil service dispute continues

Fighting cuts at Coventry council

Strike ballot at Manchester Metropolitan University

Unison health conference

Laundry workers fight closure

Dover trade unions against privatisation

National Shop Stewards Network 2010 conference:
---
Home | The Socialist 21 April 2010 | Join the Socialist Party
---