Link to this page: https://www.socialistparty.org.uk/issue/622/9470
From The Socialist newspaper, 28 April 2010
Greenwich and Woolwich
"That makes real sense to me"
The Socialist Party's TUSC stall in Woolwich has now become a regular feature for shoppers. Less familiar was the Labour Party stall that made its debut appearance last week. As the TUSC candidate I wasted no time in approaching the debutants and asking what the Greenwich Labour Party position was on the £30 million cuts package proposed by the Labour council.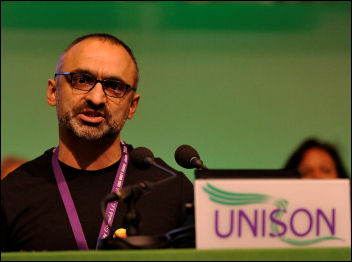 Unison conference 2009: Onay Kasab, photo Paul Mattsson
Onay Kasab, TUSC candidate
The first leafletter, resplendent in Labour rosette, replied that he did not know about the cuts and suggested that I ask somebody else.
So I approached leafletter number two. He knew about the cuts but refused to discuss them and instead wanted to engage in a discussion about his view regarding the poor quality of Greenwich Labour councillors.
In sharp contrast, the discussion on our stalls has engaged voters on subjects ranging from public services, the MPs' expenses scandal and the war in Afghanistan.
One woman, with two sons in Afghanistan stands out. She was upset at not being able to speak with her sons for weeks. I raised that it is always the working class who pay the heaviest costs and that soldiers too need a trade union to speak up for them.
Her response was to say: "That makes real sense to me".
Our position on the war, together with our defence of public services and commitment to stand as a workers' MP on a worker's wage won this woman's vote.
The sitting MP in Greenwich and Woolwich, New Labour's Nick Raynsford has already surpassed the clueless leafleters on the New Labour stall.
At a recent hustings meeting organised by Greenwich Pensioners forum he insisted that the basic rate of the pension was £40 a week higher than the correct rate.
After outraged pensioners pointed out that they knew how much they were getting, he remembered that he had to leave early!
We have no intention of leaving early. Our goal in Greenwich and Woolwich is to provide workers with an alternative to clueless New Labour, a party that lacks faith in its own leaders, a party in denial that has lost complete touch with the working class.
Watch Onay Kasab, TUSC candidate for Greenwich and Woolwich, explain why he is standing.
---
>
Unison members asked to support Labour
Onay Kasab has been banned from standing for any position within Unison for two years following a decision by the right-wing union leaders that part of a leaflet distributed at a Unison conference was "offensive".
Following the ban, the Unison branch in Greenwich was put under 'supervision' by the union's regional office.
This means no elections for members to choose who they wish to lead them and no branch meetings for members or meetings for local representatives.
Members have been told that there will be no meetings until further notice.
But they have been invited by the same officials to a meeting to hear about why they should support and get active in the Labour Party!
Onay Kasab stated: "Members in Greenwich have voted on several occasions for disaffiliation from New Labour and for the union to stop funding a party that attacks public services. This is a kick in the teeth to those members."
Why not click here to join the Socialist Party, or click here to donate to the Socialist Party.
---
In The Socialist 28 April 2010:

Vote for a socialist alternative
---
Socialist Party Marxist analysis

Heading for a coalition government?
---
Socialist Party news and analysis

Fund a political alternative to the establishment parties

Filthy rich get richer

World's most unequal city

Greek crisis

No trust
---
Socialist Party election campaign

A 'beacon of hope' in Gateshead

STUSC candidates speak

Press try to gag socialists in Walthamstow campaign

Debt balloons go up in Brighton Kemptown

Cleaning up in Cardiff

Extremes of rich and poor in Swansea

Campaign hots up in Lewisham

"That makes real sense to me"

TUSC: 'Hear your candidate' meetings
---
Socialist Party feature

Jobs not cuts
---
Socialist Party election analysis

Can the Greens help provide a left alternative?
---
Socialist Party feature

Housing in crisis: Bankers rob people
---
Socialist Party workplace news

Nottingham city council: Shocking new cuts!

Unison health conference

Glasgow CSG workers fight pay freeze

Three years of wage cuts for council workers

Strike at Northumberland College

Workplace news in brief
---
Home | The Socialist 28 April 2010 | Join the Socialist Party
---