Link to this page: https://www.socialistparty.org.uk/issue/626/9571
From The Socialist newspaper, 26 May 2010
National Shop Stewards Network conference: Time to organise against con/dem attacks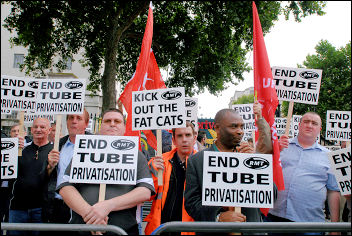 RMT protest against Tube privatisation, photo Paul Mattsson
The fourth conference of the National Shop Stewards Network (NSSN) is now less than a month away. It comes at a time when trade unionists in workplaces throughout the country are facing many threats to their living standards.
Kevin Parslow, assistant secretary, NSSN steering committee
The conference will have speakers from the British trade union movement, and a closing rally on the developing struggles across Europe, with speakers from Ireland, Greece and Spain.
This closing rally was added to the agenda as the conference will take place during a European week of protests called for by Joe Higgins MEP and other left MEPs who agreed with his initiative.
This important rally makes the event even more of a 'must' for all trade union activists, and also for migrant workers in Britain who have a particular interest in the Europe-wide dimension of the fight back against austerity measures.
The main conference agenda has sessions for everyone, including workshops on: young workers, migrant workers, fighting cuts and redundancies, the anti-trade union laws, and climate change.
The Tories, in the run-up to the general election, said they will break up national trade union bargaining in local authorities and the NHS. The Tory/Liberal coalition government wants to axe around 300,000 public sector jobs.
A stormy period is ahead as workers will resist these and other attacks, and the NSSN can play a very important role as a forum for discussion and mobilising support for the struggles that will break out.
The NSSN steering committee has produced leaflets to advertise the conference that can be distributed in all current workplace disputes and activities of the labour movement nationally.
We have set up a Facebook group, through which over 90 people have already signed up to attend the conference.
Regional NSSN bodies can play an important role in building the turnout to the conference and also can plan meetings afterwards to discuss current events and how the labour movement can respond. Budget day - 22 June - will be a good day for organising local NSSN protests and events that can help advertise the conference.
---
>
NSSN conference 2010
Saturday 26 June, 11am-4.30pm. South Camden Community School, Charrington Street,
London NW1 1RG (near Kings Cross/St Pancras).
To register send £5 to NSSN, PO Box 58262, London N1P 1ET, with your details, including workplace and trade union.
Encourage your trade union branch or workplace to sponsor the conference - suggested minimum £20.
For more details see www.shopstewards.net or email info@shopstewards.net
Why not click here to join the Socialist Party, or click here to donate to the Socialist Party.
---
In The Socialist 26 May 2010:

Millionaire ministers butcher public services

Con-Dem cuts - 'only the beginning'
---
National Shop Stewards Network

National Shop Stewards Network conference: Time to organise against con/dem attacks

Support BA Cabin Crew
---
Socialist Party news and analysis

Royal Mail not for sale

NHS cuts: The Con-Dem sting in the tail

Fast News

Sri Lanka: One year after the war

Socialist Party national committee discusses building the fightback
---
Socialist Party workplace news

PCS conference: Preparing for action

Local government: Where's our pay award for 2010?

Fighting university cuts

Workplace news in brief
---
Youth

Young people: organise to fight the cuts

Socialist Party National Youth meeting

School student socialist

'Sussex Six' result

Students must pay, say the rich

Pamphlet: Our Education Under Attack: why a mass campaign is needed
---
Socialist Party feature

London 2012 Olympics: A big business spectacle
---
International socialist news and analysis

Greece: 2,500 hear Socialist MEP Joe Higgins declare week of action

Romania: Mass protests against EU/IMF deal

Puerto Rico: Students and workers fight austerity cuts
---
Education

Education under attack: Con-Dem government prepares for battle

Unions must defend public services

Tory government says rich must pay less
---
Comment

Diane Abbott and the Labour Party leadership battle
---
Home | The Socialist 26 May 2010 | Join the Socialist Party
---