Link to this page: https://www.socialistparty.org.uk/articles/9890
Posted on 24 June 2010 at 15:10 GMT
Socialist Party's Hannah Sell on Jeremy Vine show today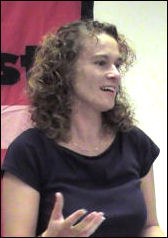 Hannah Sell, photo Socialist Party
Hannah Sell, the Socialist Party's deputy general secretary debated which social class is most affected by the latest budget on the BBC's Jeremy Vine show today. The debate starts just over six minutes into the show.
"Eighteen of this cabinet are millionaires", said Hannah, "and this is a government by the rich, for the rich, and they are setting out to hammer the rest of us."
Big business are having corporation tax cut to the lowest rate in the western world, Hannah pointed out. The rest of us face 25% cuts in public spending.
The gap between rich and poor is going to get even worse, as a result of a crisis of big business and capitalism, while poor people are getting cuts to their benefits.
To listen to Hannah Sell debate with an editor of the Telegraph newspaper and an ex-banker, click here.
The above link will be good for the next seven days.
Why not click here to join the Socialist Party, or click here to donate to the Socialist Party.
---