How a fightback can stop the cuts
---
How a fightback can stop the cuts
---
A programme for unity
Ultimately, even more important than the organisational measures that are required, is the programme around which the struggle should be organised.
Unity is strength, and the role of Marxists is always to develop a programme which aims to bring the working class together into one powerful movement and also to appeal to the middle class to join that movement.
This was relatively easy in the campaign against the poll tax because the whole working class was affected in the same way.
Nonetheless, our programme strengthened and consolidated the natural tendency to unity linking, for example, the defence of public services to fighting the tax.
Similarly in Liverpool the council fought for extra money for services while opposing big rises in the rates.
The council also dramatically improved the pay and conditions of its workforce explaining clearly to the wider working class that high quality public services require decently paid staff.
Only this approach - showing different sections of the working class their common interests - enabled both struggles to be successful.
Coming movement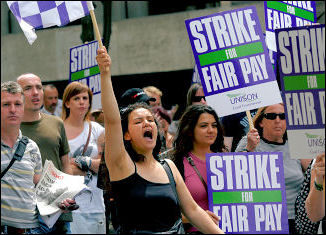 Unison Local Government strike 16-17 July in London, photo Paul Mattsson
The coming movement could be bigger in scope than even than the poll tax, but the potential for divisions exists - between public-sector and private-sector workers, old and young, unemployed and employed.
To cut across those potential divisions it is essential that the movement does not allow one section to be played off against another.
We have to explain to private sector workers that 'cushy' public sector pensions are a myth. For example, excluding the very highest earners, the average civil service pension is £4,200 a year - hardly cushy! Nor are public-service workers on fat salaries: 80% of civil servants earn less than £30,000 a year and admin officers are paid 21% less than people doing comparable jobs in the private sector.
We have to explain that cuts in so-called 'backroom staff' will lead to devastating cuts in the 'frontline' services delivered.
For example, civil service cuts over the last five years have led to 2,000 offices closing. The offices are there to collect taxes, pay benefits, help the unemployed find work, pay pensions and much more.
The cuts that have taken place in the civil service so far are chicken feed compared to what is coming, but already they have meant that taxes are left uncollected, and benefit claimants are often unable to get help when they need it.
It is a myth that excessive bureaucracy, rather than underfunding, is the main cause of inadequate public services.
If the cuts are carried out services will not be 'leaner and meaner', they will be starved virtually out of existence.
Opposition to all cuts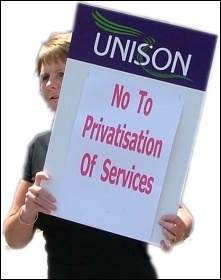 No to privatisation of services. Swansea Unison workers protest against cuts and privatisation in Wales , photo Socialist Party Wales (Click to enlarge)
We have to argue for opposition to all cuts in public services. We do not favour saving one hospital over another or cutting wages in order to save a local library.
Down this road defeat lies. Only a determined and united movement will be able to stave off the onslaught that is coming. Weakness invites aggression. The 'concession bargaining' of the majority of the trade union leaders over the last 20 years - accepting some pain in the hope of staving off another attack has never worked and will be disastrous over the coming years.
Of course, that does not mean that there is no waste in public services. After 30 years of cuts, privatisation and marketisation the public sector is already in a pretty sorry state.
We favour kicking the profit-hungry private companies out of our public services. We oppose council and health trusts chief executives taking home £200,000+ salaries. But such money should not be cut from the public sector but be redistributed to help fund our overstretched public services.
The best way to prevent bureaucracy is not to make cuts but to take control of public services out of the hands of overpaid unelected chief executives and give it to democratically elected committees that include representatives of the workforce and service users.
The central slogan for the struggle needs to be: 'we will not pay for the crisis', 'no to all cuts in jobs and services'.
---
---