Reports and Campaigns

About the Socialist Party

Anti-capitalism

Anti-privatisation

Anti-war

Election campaigns

Environment

Health

Socialist women

Workplace

Youth and Students
---
Election campaigns keywords:
Trade Unionist and Socialist Coalition (527)
---
Reports and campaigns:
Stop the slaughter of Tamils (7)
Workplace and TU campaigns (17261)
Related websites
Trade Unionist and Socialist Coalition
National Shop Stewards Network
---
6 May 2017
Labour hangs on in Wales despite cuts councillors
Anti-Corbyn media confounded by poor showing for Tories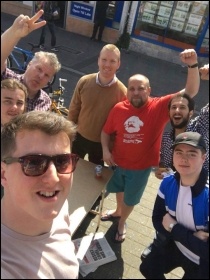 Some of Cardiff TUSC's council candidates photo Callum Glanville-Ellis, photo Callum Glanville-Ellis (Click to enlarge)
Dave Reid
The council elections in Wales were completely overshadowed by the impending general election which was called two weeks before. The mainstream media confidently predicted Labour losses in the local elections and a victory for Theresa May in the general election but the Tories have not been forgiven for the damage they have done to Welsh working class communities. So there was a powerful mood to keep the Tories out and by and large Labour's vote held up, despite the record of Welsh Labour councils in cutting council services.
Labour held on in the cities but lost some seats in the valleys, not to the Tories, but to independent councillors. The Tories only won new seats in their traditional seats in Wales.
Given the media hype in support of the Tories, they actually did very poorly. In Swansea, Labour increased its majority and retained control of Cardiff and Newport councils. There were losses in Bridgend and in Blaenau Gwent, but in most areas not to the Tories who only regained Monmouthshire council which covers the poshest area of Wales. The Tory vote in Cardiff was up but mainly at the expense of the Lib Dems, not much from Labour.
The BBC's Laura Kuenssburg, one of Jeremy Corbyn's harshest critics, declared on Radio 4 that Labour can hardly be celebrating retaining council seats in Wales, "one of its heartlands". But the previous week she had confidently inferred that Wales would fall to the Tories while visiting Porthcawl as a part of Theresa May's entourage. In fact the Tories were unable even to win back many areas that they have held in the past.
Support for Corbyn
The mood amongst young people to support Jeremy Corbyn undoubtedly mobilised thousands to vote for Labour councillors, even though most of the Labour councillors are opposed to Corbyn. In Cathays ward in Cardiff with the highest student population in Wales, Labour's vote was up by 83% with 700 more votes than in 2012! Ironically two of the councillors who benefited from this Corbyn surge backed the coup against him last year.
This year the Welsh Labour government has soft-pedalled cutting council funding, allowing Labour councils to soften cuts. This will not continue for the next four years if a Tory government is re-elected. Labour's gains in Swansea were partially down to the 'feel-good factor' generated by the much-vaunted City Deal and the prospect of a tidal lagoon in Swansea Bay, both of which have been promoted by the local media.
Labour is now two parties in one, with most of the Welsh MPs and councillors more concerned with preventing Corbyn winning even if it means the Tories being returned to attack working people. Many workers will be wondering on which side is the arch-Blairite MP for Aberavon, Stephen Kinnock, who could not wait to declare the local election results "disastrous" and blame Jeremy Corbyn, before realising that the results were not so bad.

Kinnock then did a u-turn and proclaimed the leadership of Welsh Labour's "fantastic first minister" Carwyn Jones responsible, neglecting to mention that it is in Carwyn's own Bridgend back yard that Labour lost!
Ukip's decline in Wales continues from the Assembly elections with its vote slipping towards the level of the Tories in the cities and towards independents in the valleys. Plaid made some modest gains but no big breakthrough.
Anti-austerity alternative
The Trade Unionist and Socialist Coalition (TUSC) stood 22 candidates in five councils to put forward an anti-austerity alternative to Labour councils that have been cutting services for the last five years. There was a very friendly response to TUSC's message on the doorsteps where TUSC stood.
Nevertheless after May had called the general election, for understandable reasons many voters who were considering voting for TUSC decided to get behind Labour to support Corbyn or to keep the Tories out. Despite the general election being called, TUSC received nearly 1,600 votes and over 9% of voters in Townhill in Swansea and Llannon in Carmarthenshire, with other creditable votes in Cardiff, Swansea, Rhondda Cynon Taff and Caerphilly.
These elections show the potential for Corbyn to overcome the hostile forces in the media and amongst Labour MPs. There is a lot of confusion over what Labour stands for but very little support for the Tories. If Corbyn's Labour reaches out over the heads of the Blairites and fights on radical policies that can improve people's lives he can regain votes in the valleys and the cities of Wales. A programme for a £10 an hour minimum wage, abolition of zero hour contracts, a fully funded NHS, an end to cuts and renationalisation, can win enthusiastic support. But the conservative tail of the Welsh Labour leaders must be shed.
---
This version of this article was first posted on the Socialist Party website on 6 May 2017 and may vary slightly from the version subsequently printed in The Socialist.
---




LATEST POSTS

WHAT'S ON

CONTACT US
Locate your nearest Socialist Party branch Text your name and postcode to 07761 818 206
Regional Socialist Party organisers:
Eastern: 0798 202 1969
East Mids: 0773 797 8057
London: 020 8988 8786
North East: 0784 114 4890
North West 07769 611 320
South East: 020 8988 8777
South West: 07759 796 478
Southern: 07833 681910
Wales: 07935 391 947
West Mids: 02476 555 620
Yorkshire: 0114 264 6551

ABOUT US

ARCHIVE
---

2017

2016

2015

2014

2013

2012

2011

2010

2009

2008

2007

2006

2005

2004

2003

2002

2001

2000

1999