Reports and Campaigns

About the Socialist Party

Anti-capitalism

Anti-privatisation

Anti-war

Election campaigns

Environment

Health

Socialist women

Workplace

Youth and Students
---
Environment keywords:
---
Reports and campaigns:
Stop the slaughter of Tamils (7)
Workplace and TU campaigns (17085)
Related websites
Trade Unionist and Socialist Coalition
National Shop Stewards Network
---
Fracking protest in Sherwood Forest
On 7th January, with only a week's notice, over 300 people came together to protest against plans by chemical giant INEOS to carry out seismic surveys in Sherwood Forest - a move which marks a clear intent to frack in the area. The rally at the Major Oak on a cold winter's day brought together environmentalists, socialists and even Robin Hood himself to make their voices heard.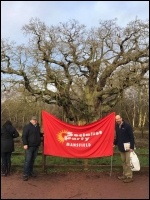 Socialist Party banner at the protest, photo Jane Crowter
The Tory government has introduced laws to assist the shale gas industry while simultaneously blocking the growth of renewable energy. Fracking has now been approved, but not yet begun, at three sites in England, however Sherwood Forest is the first forest to be targeted.
Fracking is destructive, causing damage to properties and polluting the water table. Members of the Socialist party from Mansfield to Coventry attended the protest to share our call for investment in clean energy - to create decent, skilled jobs, and to protect the environment - and for democratic, public ownership of the energy industry.
Jane Crowter, Coventry Socialist Students
---
This version of this article was first posted on the Socialist Party website on 12 January 2017 and may vary slightly from the version subsequently printed in The Socialist.
---




LATEST POSTS

WHAT'S ON

CONTACT US
Locate your nearest Socialist Party branch Text your name and postcode to 07761 818 206
Regional Socialist Party organisers:
Eastern: 0798 202 1969
East Mids: 0773 797 8057
London: 020 8988 8786
North East: 0784 114 4890
North West 07769 611 320
South East: 020 8988 8777
South West: 07759 796 478
Southern: 07833 681910
Wales: 07935 391 947
West Mids: 02476 555 620
Yorkshire: 0114 264 6551

ABOUT US

ARCHIVE
---

2017

2016

2015

2014

2013

2012

2011

2010

2009

2008

2007

2006

2005

2004

2003

2002

2001

2000

1999