Reports and Campaigns

About the Socialist Party

Anti-capitalism

Anti-privatisation

Anti-war

Election campaigns

Environment

Health

Socialist women

Workplace

Youth and Students
---
NHS keywords:
---
Reports and campaigns:
Stop the slaughter of Tamils (95)
Workplace and TU campaigns (8388)
Related websites
Trade Unionist and Socialist Coalition
National Shop Stewards Network
---
Stop NHS cuts
Health trusts told: 'don't fill posts'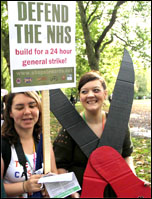 Nurses protest on the 20 October 2012 TUC demo, photo Senan
Dave Carr
The Tory government claims that NHS spending is protected from its multi-billion pound cuts in public services. However, so-called 'efficiency savings' (ie cuts) of around £30 billion are being pushed through health trusts.
Monitor - the NHS regulator - has now told 46 health trusts in 'deficit' that their spending plans are "unaffordable" and that only 'essential' posts should be staffed. In other words, make more cuts!
David Cameron's insistence on the NHS providing a full service 24/7, without investing extra resources, will only compound the pressures on underpaid and overworked health staff.
Acute nursing shortages are already having a devastating effect on NHS patient care by forcing the closure of wards and beds in hospitals.
Barts health trust (the largest in the country), for example, has been forced to close two theatres and two catheter labs at its new Heart Centre and axe 15% of hospital beds at the Smithfield site after admitting to a shortfall of 120 nurses.
Overall, Barts, which runs five east London hospitals, has nearly 1,200 vacancies - one in five of its nurses and midwives.
This situation is a result of a £93 million deficit caused by a rip-off Private Finance Initiative (PFI) contract to redevelop the Royal London Hospital.
This privatisation measure is costing Barts £2 million a week to service, draining it of vitally needed resources.
At the same time the PFI contract has, so far, made the private companies involved £150 million in profit.
PFI was introduced by the Tories but then rapidly expanded by Labour.
The establishment parties can't be trusted to defend our vital health services. All of them have undermined the NHS while private companies benefit.
It's time to kick out these vultures and rebuild the NHS as a fully funded and democratically run health service.
---




LATEST POSTS

WHAT'S ON

CONTACT US
Locate your nearest Socialist Party branch Text your name and postcode to 07761 818 206
Regional Socialist Party organisers:
Eastern: 0798 202 1969
East Mids: 0773 797 8057
London: 020 8988 8786
North East: 0191 421 6230
North West 07769 611 320
South East: 020 8988 8777
South West: 07759 796 478
Southern: 07833 681910
Wales: 07935 391 947
West Mids: 02476 555 620
Yorkshire: 0114 264 6551

ABOUT US

ARCHIVE
---

2017

2016

2015

2014

2013

2012

2011

2010

2009

2008

2007

2006

2005

2004

2003

2002

2001

2000

1999