Reports and Campaigns

About the Socialist Party

Anti-capitalism

Anti-privatisation

Anti-war

Election campaigns

Environment

Health

Socialist women

Workplace

Youth and Students
---
The state keywords:
Campaign Opposing Police Surveillance (2)
---
Reports and campaigns:
Stop the slaughter of Tamils (94)
Workplace and TU campaigns (8351)
Related websites
Trade Unionist and Socialist Coalition
National Shop Stewards Network
---
Forest Gate raid
Community protests at trigger-happy policing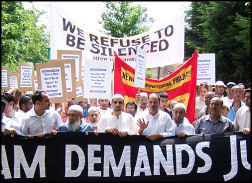 TWO THOUSAND protesters marched through east London last Sunday to demand an apology from the Metropolitan police over the Forest Gate 'anti-terrorism' raid - in which Abdul Kahar was shot and arrested along with his brother, Abul Koyair.
Both men were released without charge after a week in police custody. Media reports claim that the police informer who triggered the raid had 'learning difficulties'.
Abul Koyair thanked the demonstrators for their support and stressed that he and his brother didn't want "this to happen to other people in this community, Muslim or non-Muslim". He was joined on the demo by Alex Pereira, the cousin of Brazilian migrant worker Jean Charles de Menezes, gunned down by police in an anti-terrorist operation last year. Met chief Sir Ian Blair is facing calls to resign over his handling of the Menezes shooting.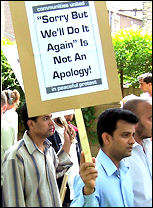 Prime Minister Tony Blair had angered the local community when he said he backed the police raid "101%", and that he fully supported Ian Blair. East Ham Labour MP Stephen Timms was roundly booed at Sunday's rally when he tried to distance the government from the Forest Gate raid.
But according to press reports, the raid was OK'd by the Cabinet Office. Moreover, many people consider that they face a trigger-happy police force, acting with impunity under the government's anti-terrorist laws.
And in a crassly insensitive manner it was announced the day before Sunday's demo that Assistant Police Commissioner, Andy Hayman, was made a CBE in the Honours list. Hayman is responsible for anti-terrorism investigations which includes the Menezes shooting and the Forest Gate raid..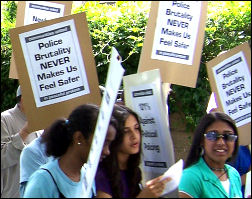 Socialist Party members leafleted for a forthcoming public meeting to discuss the police raid, terrorism, and the issue of Iraq. Many protesters signed a Socialist Party petition calling for a public inquiry, involving community and workers' representatives, into the anti-terrorist laws and policing.
---




LATEST POSTS

WHAT'S ON

CONTACT US
Locate your nearest Socialist Party branch Text your name and postcode to 07761 818 206
Regional Socialist Party organisers:
Eastern: 0798 202 1969
East Mids: 0773 797 8057
London: 020 8988 8786
North East: 0191 421 6230
North West 07769 611 320
South East: 020 8988 8777
South West: 07759 796 478
Southern: 07833 681910
Wales: 07935 391 947
West Mids: 02476 555 620
Yorkshire: 0114 264 6551

ABOUT US

ARCHIVE
---

2017

2016

2015

2014

2013

2012

2011

2010

2009

2008

2007

2006

2005

2004

2003

2002

2001

2000

1999