Reports and Campaigns

About the Socialist Party

Anti-capitalism

Anti-privatisation

Anti-war

Election campaigns

Environment

Health

Socialist women

Workplace

Youth and Students
---
Workplace and TU campaigns keywords:
---
Reports and campaigns:
Stop the slaughter of Tamils (7)
Workplace and TU campaigns (18482)
Related websites
Trade Unionist and Socialist Coalition
National Shop Stewards Network
---
Lindsey, Visteon, Linamar - lessons from the disputes of Spring 2009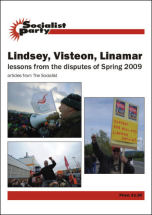 Lindsey, Visteon, Linamar: Lessons from the disputes of 2009
A new pamphlet containing the key articles from The Socialist, written during the course of these disputes.
£1.50 each or £2 including postage and packing.
Buy online from Socialist Books, or order at PO Box 24697, London E11 1YD. Or ring 020 8988 8777.
---




LATEST POSTS

WHAT'S ON

CONTACT US
Locate your nearest Socialist Party branch Text your name and postcode to 07761 818 206
Regional Socialist Party organisers:
Eastern: 079 8202 1969
East Mids: 077 3797 8057
London: 020 8988 8786
North East: 078 4114 4890
North West 079 5437 6096
South West: 077 5979 6478
Southern: 078 3368 1910
Wales: 079 3539 1947
West Mids: 024 7655 5620
Yorkshire: 077 0671 0041

ABOUT US

ARCHIVE
---

2019

2018

2017

2016

2015

2014

2013

2012

2011

2010

2009

2008

2007

2006

2005

2004

2003

2002

2001

2000

1999