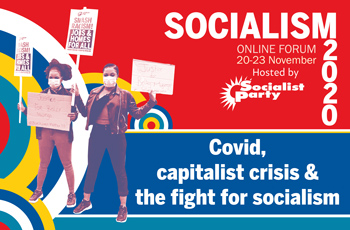 Donate to the Socialist Party
Click on an amount or enter your own amount below. Thanks!
---
---
Other payment methods
You can pay by UK cheque or postal order by post to: Socialist Party, PO Box 1398, Enfield EN1 9GT
Secure Server: Pay on a secure server. We will send a confirmation email and so will our third party credit card facility
Refund policy: You have a statutory right to a refund up to seven days after your transaction. Refunds at the discretion of the Socialist Party after that time.
Contact details: Tel 020 8988 8777; email

[email protected]




LATEST POSTS

WHAT'S ON

17 Jan Socialist Party national women's meeting: Perspectives for women and class struggle in Britain

20 Jan All-London TUSC meeting

20 Jan Socialist Students national meeting: Refund the rent, cancel the fees and fight for free education

CONTACT US
Locate your nearest Socialist Party branch Text your name and postcode to 07761 818 206
Regional Socialist Party organisers:
Eastern: 079 8202 1969
East Mids: 077 3797 8057
London: 075 4018 9052
North East: 078 4114 4890
North West 079 5437 6096
South West: 077 5979 6478
Southern: 078 3368 1910
Wales: 079 3539 1947
West Mids: 024 7655 5620
Yorkshire: 077 0671 0041

ABOUT US

ARCHIVE
---

2020

2019

2018

2017

2016

2015

2014

2013

2012

2011

2010

2009

2008

2007

2006

2005

2004

2003

2002

2001

2000

1999