Socialism 2009
---
Socialism 2009 Reports
Video of socialism 2009
Socialism 2009, the weekend of discussion and debate hosted by the Socialist Party was a huge success. A thousand people came over the weekend to participate in the various discussions and to be inspired by the two rallies. From long-standing Socialist Party activists to those attending their first ever meeting, everyone got something out of it.
Watch this space for details of Socialism 2010 which will be even bigger and better!
---
- Click here for more videos, audio and written reports of Socialism 2009.
---
- Click here to see details of the rallies and sessions at Socialism 2009
---
Socialism 2008 Reports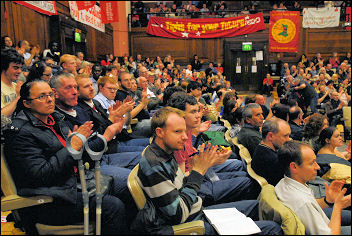 Socialism 2008, photo Paul Mattsson
Videos and reports of Socialism 2008 Saturday rally

Speakers at Socialism 2008 included Robbie Segal, who gained 40.6% of the vote in an election for the general secretary of shopworkers' union Usdaw, Janice Godrich, president of the Public and Commercial Services union, and Peter Taaffe, general secretary of the Socialist Party.
---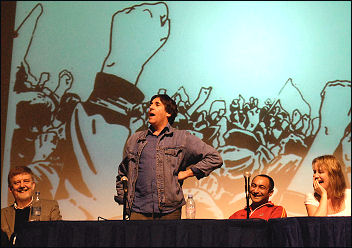 Mark Steel at Socialism 2008, photo Paul Mattsson
Videos of Socialism 2008 Sunday discussion forum
Dave Nellist, Mark Steel, Kevin Ovenden and Jackie Grunsell discuss the need for a new workers party.
---
Read reports of Socialism 2008
---




LATEST POSTS

WHAT'S ON

18 Jan Cardiff West Socialist Party: Racism in the police - the fight for justice for the Cardiff 3

18 Jan Caerphilly and RCT Socialist Party: Where is Britain going?

19 Jan York & North Yorkshire TUSC people's budget meeting

CONTACT US
Locate your nearest Socialist Party branch Text your name and postcode to 07761 818 206
Regional Socialist Party organisers:
Eastern: 079 8202 1969
East Mids: 077 3797 8057
London: 020 8988 8786
North East: 078 4114 4890
North West 079 5437 6096
South West: 077 5979 6478
Southern: 078 3368 1910
Wales: 077 7221 5281
West Mids: 024 7655 5620
Yorkshire: 078 0983 9793

ABOUT US

ARCHIVE
---

2021

2020

2019

2018

2017

2016

2015

2014

2013

2012

2011

2010

2009

2008

2007

2006

2005

2004

2003

2002

2001

2000

1999