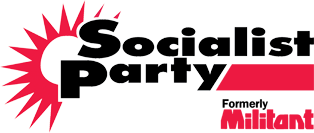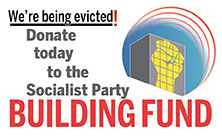 Archive article from The Socialist Issue 271
---
Home | The Socialist 4 October 2002 | Subscribe | News
Join the Socialist Party | Donate | Bookshop
Stoke-on-Trent
Fighting The BNP's Racist Lies
THE NEO-Nazi British National Party (BNP) are standing a candidate in the mayoral election in Stoke-on-Trent on 17 October. This has galvanised opposition to the BNP's vile racist propaganda.
Andy Bentley
The North Staffs Campaign against Racism and Fascism (NorSCARF) anti-BNP rally on Sunday 6 October in Stoke is an important step in the area's struggle against racism and fascism.
Stoke has been devastated by job losses as pits, steel production and many pottery factories have disappeared. Along with low wages, the city has some of Britain's worst areas of poverty and poor housing.
The BNP blame asylum seekers for these problems. That's nonsense. It was the bosses of Corus who closed Shelton Steelworks to maximise their own profits. Thatcher's Tory government closed our mines and destroyed much of our manufacturing base.
It's the pottery industry's fat-cat top bosses who sack workers. New Labour has done nothing to prevent this onslaught and now plans to waste £ billions bombing innocent civilians in Iraq.
The BNP rant on with lies about the so-called threat posed by asylum seekers. But these neo-Nazis divert attention away from Labour's policy of handing over our schools, hospitals and other public services to their big-business friends while the bosses continue to sack workers.
However, in Stoke the fight-back is now underway. With the help of Socialist Party members and others, a branch of Youth against Racism in Europe (YRE) has been set up and is recruiting new members.
Members of NorSCARF, the Socialist Party and YRE have been on the streets of Longton, Hanley, Cobridge, Tunstall etc and at Staffs University and Stoke-on-Trent College exposing the BNP's lies and building unity around the demand for decent jobs, homes and services.
Unfortunately, some working people could vote for the BNP as a protest at New Labour's anti-working class policies nationally and locally. Temporarily, some mistakenly see the BNP as an alternative.
The need is clearly becoming urgent to build a new mass workers' party to replace the now openly capitalist New Labour.
This will be achieved by building maximum unity of all working-class people fighting to replace capitalism with a system of democratic planning run to meet everyone's needs, not just providing profits for a privileged few.
This is the only way to remove the poison of racism and fascism completely.
Home | The Socialist 4 October 2002 | Subscribe | News
Join the Socialist Party | Donate | Bookshop