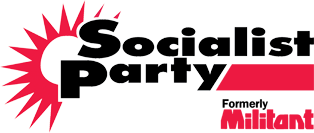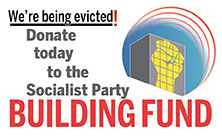 Archive article from The Socialist Issue 286
---
Home | The Socialist 7 February 2003 | Subscribe | News
Join the Socialist Party | Donate | Bookshop
Congestion charges
Public Transport Vs Private Chaos
THE BIGGEST road-widening programme for 20 years was announced in December. £5.5 billion is to be spent on transport, largely on road schemes, like extra lanes on the M1 and M6 and £600 million for local councils to spend on road maintenance.
Alison Hill
The only spending planned for public transport is some new rail lines in the north west and an express transit system for Nottingham.
Now the Strategic Rail Authority (SRA) has announced cuts in services and delays to major improvement projects because it hasn't got the cash. The government's target for a 50% increase in passengers by 2010 has been dropped and the current SRA plan forecasts a 25% - 35% increase.
Schemes getting the chop or being downgraded include the modernisation of the east coast main line, the Thameslink 2000 project through London from Brighton to Bedford and improvements to many commuter lines in the south east.
So current government policy is to preside over further cuts in railway investment and spend millions on roads. But building roads hasn't done much for traffic congestion recently. As Professor David Begg, chair of the government's Commission for Integrated Transport has pointed out: "On the M25 when it went from three to four lanes, within one year traffic increased by one third."
London Mayor, Ken Livingstone's plans for congestion charging are very much against the tide of government policy. Can the scheme work and who will it benefit?
London is a big, old, congested city whose transport infrastructure has been neglected for decades. The sheer weight of numbers of people travelling on the antiquated system means it is teetering on the edge of crisis all the time.
The closure of the Central and the Waterloo and City Lines following the Chancery lane crash has added hours on to many commuters' journeys. 600,000 people a day are being forced to find other means of travel. And a few millimetres of snow locked the road, rail and tube system into gridlock last week.
Making the problem worse
From 17 February, most vehicles entering a cordon round central London from 7am to 6.30pm Monday to Friday will have to pay £5. Some vehicles are exempt and people living within the zone get a 90% discount. If you don't pay the charge you'll be fined £80, discounted to £40 if you pay quickly but raised to £120 if you're a slow payer. Persistent non-payers will be clamped.
The main failings of the scheme are that it doesn't tackle the crisis in public transport and it discriminates against people on lower incomes. Many workers run a car because of poor public transport, particularly if they work shifts and have to travel very early in the morning or late at night.
The tube system is already overcrowded, dangerous and unlikely to get any better as it falls into the hands of the sharks involved in the Public-Private Partnership (PPP) scheme.
Incapable of organising a campaign to win proper government funding for the tube system, opposing the PPP scheme, Livingstone has had to rely on increasing the bus services to try to improve public transport.
More bus services are welcome but they are obviously slower than the underground and with a much smaller capacity. 800 people were on the train that crashed at Chancery Lane - that's a lot of buses.
Older buses are also heavy polluters, already a serious problem in London. A recent study has concluded that 433 lives a year would be saved in London if particle pollution levels were cut to 20 microgrammes per cubic metre. But the government's target for London is 23 microgrammes per cubic metre by 2010.
Capita, fresh from organising many public-sector fiascos, including the delayed child protection vetting process, is to run the scheme. But even if the equipment all works, streets just outside the zone are likely to become busier with a massive increase in pressure on parking facilities in those areas.
But the main problem is that it will try to batter people into not driving into central London, rather than coaxing them with a viable public transport alternative.
Socialist alternative
What would a socialist solution to traffic congestion be like? The first step is obviously to concentrate on public transport. Stop the privatisation of the tube, renationalise all the bus services and immediately invest in improving services, wages and the vehicles.
Managed democratically by the workers using and operating the system, it would be possible to properly plan public transport in an integrated way.
New tube and rail lines could be built and old ones could be re-opened, rather than the land being sold off to property developers. Cutting and eventually abolishing fares would free staff to make the system more efficient.
Even modest steps towards these aims would reduce congestion as people would choose to leave their cars at home.
An integrated public system built to transport people and goods in an environmentally friendly way, rather than to generate private profits, could make travel, even in London, a pleasure rather than a dangerous chore.
Home | The Socialist 7 February 2003 | Subscribe | News