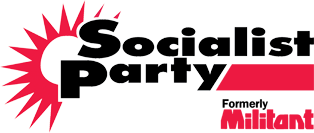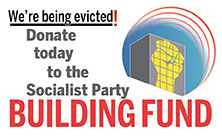 Archive article from The Socialist Issue 297
---
Home | The Socialist 26 April 2003 | Subscribe | News
Join the Socialist Party | Donate | Bookshop
Save steel jobs - nationalise Corus
NEW LABOUR may be banking on a record low turnout to win the Welsh Assembly election on 1 May but if a referendum was called on their handling of the Welsh steel industry, they'd lose their deposit!
Rob Williams, Socialist Party Wales and candidate for the Welsh Assembly elections, Aberavon
Steelworkers in Port Talbot and throughout the country are seething at rumours that Corus are selling off their UK operations to Lakshmi Mittal for a song. This was the businessman who donated £125,000 to New Labour in return for Blair putting in a good word for him with the Romanian government. Mittal wanted to take over a privatised steelworks.
This was just after New Labour sat and watched as Corus closed half of the Welsh steel industry and made thousands of workers redundant!
Steelworkers fear that this would be the final nail in the coffin for their jobs. Mittal would do the final hatchet job as Corus management make workers pay for their bad management. This at the same time as Corus bosses are changing the rules to allow their bonuses to be paid even if they make losses. As usual, no performance-related pay for management and redundancy for the shopfloor.
Socialist Party members in Port Talbot fighting the Aberavon Assembly Election have had a great response to our slogan of "Save Steel Jobs - Nationalise Corus". Working-class people in Port Talbot don't want to follow Ebbw Vale into 'ghost town' status and support our campaign, alongside workers in the plant who took part in the national trade union protest to demand the resignation of Corus boss Sir Brian Moffat.
No wonder there's talk of low turnouts when the assembly is 'powerless' to stop the crisis at Corus. We are demanding a Welsh Parliament that could change the lives of ordinary people by nationalising Corus to save the Welsh steel industry. This would act as a beacon to workers in the English plants as well as in Holland to take action to save their jobs.
The steelworks in Port Talbot is the beating heart of the town. The blast furnace explosion there 18 months ago claimed three lives. Corus have shamefully stopped sick pay for those who were injured in the accident that they were fore-warned of by workers in the plant. New Labour in Cardiff were also warned but as the Mittal affair shows, New Labour listens to the bosses not the workers.
National one day steel strike to fight any UK sell-off and new job losses
Save steel jobs - nationalise Corus
Vote Socialist Party - for a Socialist Welsh Parliament
Home | The Socialist 26 April 2003 | Subscribe | News