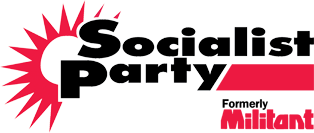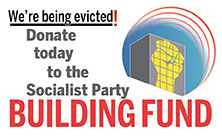 Archive article from The Socialist Issue 299
---
Home | The Socialist 10 May 2003 | Subscribe | News
Join the Socialist Party | Donate | Bookshop
Build The Socialist Alternative
NEW LABOUR suffered their worst result for 24 years in the local elections of 1 May. Most people just didn't bother to vote, fed up with all the main political parties.
In Coventry, Socialist Party councillor Karen McKay was re-elected with an increased majority over New Labour.
Her victory, like those from the Scottish Socialist Party in elections to the Scottish Parliament, shows that it is possible to offer a fighting socialist alternative to the pro-big business policies of the establishment parties - and win.
Karen told the socialist:
"People in St Michael's had no faith in the Labour council, named fourth worst in the country by the government's own audit team. Millions are spent on projects such as lighting up the council house or for a 'millennium clock' (still nowhere near completion), yet vital social services, road repairs, and investment in local areas are all underfunded and inadequate.

There is a strong anti-Labour mood as many now see it as a second Tory party. But that doesn't mean people automatically come to us. The whole party works hard to win our support - we knock every door at least twice, as well as leafleting, stalls and public meetings.

Among those most active in the community, those who are politically aware, we have built up a loyal base of support over the years as we have proved we will fight for people locally, as well as on the big issues against privatisation and cuts in services.

We want to build on the support we have across the city. We need to work in other areas to develop groups in these communities. We intend to build the party and draw in the wider layers of support we have.

The council is no longer a majority Labour council and the role that the three socialist councillors will play there will be more interesting. We will continue to fight Labour's moves towards two-tier public services and privatisation and we aim to build on our links with the trade unions."
If you've had enough of New Labour's anti-working class policies, join us in the Socialist Party and help build a fighting socialist alternative - locally, nationally and internationally.
---
Socialist Sees Off The Two Tory Parties
In addition to Karen McKay's excellent victory in Coventry St Michaels reported below, we scored some very good votes elsewhere.
Socialist Party results in England and Wales
Pete Glover increased his percentage of the vote in Netherton and Orrell despite a scurrilous Labour Party campaign (see article below). Rob Menzies secured 16% standing for the first time in Worcester All Saints.
COVENTRY SOCIALISTS are celebrating another great win with Karen McKay being re-elected as a councillor in St Michaels Ward with her majority doubled! We also managed to maintain an overall support of 14% in the seven wards we contested.
Dave Griffiths, Coventry
Holding St Michaels and increasing the majority, was no mean achievement. Every year there is a significant population turnover and therefore changing electorate. There is also a significant electoral 'depopulation', with the expansion of Coventry university's student population and an influx of asylum seekers.
The latter two factors, when added to the background of council cuts and declining services, has led to a layer of cynicism.
New Labour tried to exploit this cynicism in a dirty fashion. They blamed local ("Militant Socialist") councillors for the council's failure to provide services. Leaflets included pictures of burning cars attacked by rioters with the clear implication that this was approved by socialists who were more interested in Iraq and 'others'.
Before the invasion of Iraq, and in the course of the firefighters' dispute, a strong mood had developed in Coventry of New Labour being Tories.
The war blunted, or confused this picture and, certainly in Coventry, an anti-war position - as we expected - was no electoral advantage, rather broadly neutral. However, as a party we have made advances around this issue.
It is clear whose criticism hits Labour hardest. While they lost five seats elsewhere in Coventry, they still had big teams out in St Michaels. (Not that Suits with mobiles is the best advert!)
But the result shows the trust Karen and the Socialist Party have built up in the area. We are an itch Labour still cannot scratch! Against New Labour's cynicism, enough people care enough, and hope to improve their local area and city, that they increased the Socialist majority.
Coventry Socialists are proud of this and we intend to redouble our efforts to spread support city-wide. Over 70 people worked in our campaign, many people look likely to join us, (some already have) and many others have asked us to stand in their area, with an offer to put our leaflets out for us.
Coventry council is now under "No overall Control", with the three Socialists (still called "others" by the BBC/Press!) holding the balance. The Tories explained to the Coventry Evening Telegraph, they did not believe they could do a long term deal with the Socialists (!) and of course the New Labour leadership would find it anathema. But the two Tory parties won't find it so easy to get their way in the next year.
Finally, the night presented a warning with a big vote for the BNP in the ward they contested. This stressed the urgency of establishing a socialist alternative across the city - and nationally - in the face of worsening conditions for working-class people.
---
Bootle
New Labour's lies and dirty tricks
SOCIALIST PARTY success in Bootle has continued. Our candidates scored 34% - 672 votes in Netherton and Orrell ward and 8% - 118 votes in Litherland ward.
The Litherland result is particularly good as our candidate, Michael Brierley, stood in the ward for the first time and, due to an error by the printer, our leaflet was not distributed across all of the ward.
In Netherton and Orrell, we increased our share of the vote despite one of the dirtiest campaigns in Britain.
Labour played the race card by raising asylum and immigration in two leaflets. The Guardian attacked the Tories for raising asylum issues in the election, yet Labour precisely raised this issue in Bootle to gain a few extra BNP votes.
Labour attacked the Socialist Party in their last leaflet claiming:
The Socialist Party support "terrorism" because we're opposed to the curtailing of democratic rights under the draconian Terrorist Act.

Bizarrely, Labour claimed the Socialist Party supports "evil regimes" like Robert Mugabe's in Zimbabwe!
Labour tried to raise the fear factor with a leaflet with a cropped photograph of Peter Glover's eyes! - in the same way that the Tories attempted to demonise Tony Blair in a poster during the 1997 election.
On the night before the election, an army of Labour Councillors and supporters were spotted sweeping across the ward with their latest libellous leaflet.
Labour mobilised all their forces borough-wide and directed them to Netherton and Orrell ward yet still couldn't stop us increasing our share of the vote.
Labour lost two seats in Sefton including a cabinet member but they realise that the Socialist Party is their main enemy and will keep trying to lie about our policies and libel our candidates. Watch out for us next year!
---
Morgan's 'clear red water' helps Labour in Wales
RHODRI MORGAN and "Welsh Labour" are celebrating gaining two seats and a total of 30 out of 60 Welsh Assembly seats. But all the established parties lost votes in the Welsh Assembly elections, as the turnout tumbled from 46% to 38%. Vote strikers outnumbered voters nearly two to one.
Dave Reid, Socialist Party Wales
While the vote for left-wing candidates rose, Plaid Cymru lost five of their 17 seats and nearly half their votes from 1999. Labour, who won the election, shed over 50,000 votes. The election reflected disenchantment with politics but also the contempt that the Assembly is held in.
Labour gained mainly at Plaid Cymru's expense. Labour's leader, Rhodri Morgan, has cultivated an image of "Welsh Labour" which keeps "clear red water" between himself and Tony Blair. In 1999 Blair disastrously imposed Alun Michael as Welsh Labour leader to keep Morgan out. This resulted in massive gains for Plaid last time around.
Welsh Labour introduced free bus travel for pensioners across Wales, abolished SATS at Key Stage One, opposes foundation hospitals and promises free prescriptions and free primary school breakfasts. This built up an image of a Welsh Labour leadership different from right-wing New Labour.
Plaid Cymru's leadership on the other hand, has been trying to show how responsible it really is. The huge gains in 1999, when Plaid appeared a radical alternative to New Labour, evaporated as Plaid lost 145,000 votes, doing particularly badly in seats in Rhondda Cynon Taff and Caerphilly, where it controls councils. Working people have discovered that very little has changed under Plaid.
Only the left increased its votes from 1999. Maverick ex-Labour Assembly Member John Marek won his seat in Wrecsam and his list gained 11,000 votes in North Wales.
The best results for socialists in the constituencies were gained by Socialist Party candidates in Aberavon and Cardiff South and Penarth. In Aberavon Rob Williams got the best socialist vote in Wales while in Cardiff, Dave Bartlett got the second best socialist result and doubled his share of the vote from 1999.
In this Assembly election Welsh Labour used a few radical-sounding promises to shore up its position. However the differences with New Labour in London are minimal and Westminster still controls the purse strings. The "clear red water" that Morgan claims lies between Welsh Labour and New Labour will prove to be an illusion.
The problems facing ordinary working people will not go away. The chronic crisis in the Welsh health service remains unresolved. Public services are in a mess while council taxes go through the roof. As opposition to "Welsh Labour" develops, support for socialist ideas will grow.
Constituency socialist votes:
Rob Williams, Aberavon, (Socialist Party), 608 (3.24%)
Dave Bartlett, Cardiff South & Penarth, (Socialist Party), 585 (2.91%)
Raja Gul Raiz, Cardiff Central, (WSA*), 541 (2.63%)
Chris Herriot, Ogmore, (SLP* ), 410 (2.45%)
Hugh Pudner, Neath, (WSA), 410 (1.85%)
Leigh Richards, Swansea West, (WSA), 272 (1.40%)
Richard Morse, Newport West, (WSA), 198 (0.92%)
Alan Thomson, Swansea East, (WSA), 133 (0.76%)
*WSA: Welsh Socialist Alliance
*SLP: Socialist Labour Party
---
Analysis:
Blair's 'Baghdad Trounce'
TONY BLAIR hoped his Iraq 'victory' would help New Labour in the 1 May elections. But rather than a 'Baghdad bounce', it was more like a 'Baghdad trounce'. New Labour lost votes nationwide due to anger on the war. In particular, they lost several councils in areas with large Muslim populations such as Birmingham, Coventry and Leicester.
Judy Beishon
A layer of voters remain in opposition to the war. Still more - two-thirds of people according to a poll - think Blair's warmongering has increased the likelihood of terrorist attacks in the UK. New Labour even had difficulties motivating their own election activists as a result of the war.
New Labour's loss of over 750 seats was also due to great anger over domestic issues, such as the recent 13% average council tax increase, the rise in National Insurance, cuts in services and the level of crime.
The Liberals gained their highest share of the vote in a local election but their net gain was only 185 seats and four councils. They are the traditional protest vote against Labour and the Tories but in this election also gained votes for not fully endorsing war on Iraq. Their results show that once in power they quickly repel people when it becomes clear they offer no real alternative.
The Tories gained 560 seats and 29 councils, mainly in rural and suburban areas. Tory shadow minister, Crispin Blunt tried to trigger a leadership challenge to Tory leader Ian Duncan Smith (IDS) by attacking him and resigning his position.
But it was an ill-timed move, made just hours before it was clear the party had won enough seats to save IDS for the time being. And despite IDS's lack of support amongst Tories, they have no credible alternative at present. Incredibly, Blunt's preference was to return to the failed leadership of William Hague!
The Tories are also well aware that they achieved nowhere near the votes they would need to win a general election.
Speculating on what the results would mean in a general election is a fairly futile exercise. With only a third of voters turning out, the 'snapshot' of views on 1 May gives no indication of how the bulk of the electorate will vote. And in any case, attitudes can alter considerably as a result of events over even short periods of time.
Disillusionment
THE TORIES were heralded as the largest party in local government, having gained 35% of the vote, as against Labour's 31% and the Liberals' 30%. But rather than significant increased support for them, their seat gains were mainly due to the fall in Labour's vote.
Taking into account the low turnout and the fact that 12% of the electorate was not involved in elections on 1 May, all three main capitalist parties received the votes of around only 8% of the total electorate! This is the inevitable response by ordinary people to their similar polices of cuts and attacks on living standards.
All three parties had major problems in even finding candidates for many of the 10,427 council seats contested. Labour had candidates in only two-thirds of the seats being fought for in England.
As well as showing disillusionment in the main parties, the low turnout reflects the view that voting will not change anything, particularly in local elections as councils have had many of their powers taken away by central government.
New methods of voting such as all-postal ballots, phone and e-voting boosted the vote in some areas. However, they will not change the present fundamental disenchantment with voting, particularly of working-class people. These methods could also encourage vote-rigging, and they create a passive role for the electorate rather than an active one.
There is a continuing trend for independent candidates and small parties to gain seats, which disturbingly has also included the far-right BNP (see article opposite). The Green Party now have 53 councillors in England and Wales, their highest ever number.
Socialist Party councillor Karen McKay was re-elected in Coventry - we have four councillors nationally. The Socialist Alliance gained one councillor in Preston.
The Scottish Socialist Party's gains in the Scottish parliament are excellent and there will be questions about whether socialists in England and Wales can achieve similar results. However, their gains were due to the system of proportional representation which is not used in England and Wales.
Nevertheless, steps towards left unity need to be taken in England and Wales, though these must be on a principled basis. The vacuum on the left and the successes of anti-cuts candidates and small parties, including the Socialist Party, shows the potential for a new mass workers' party. With more government attacks imminent, this is urgently needed.
Economy worsening
AS THE economy worsens, the government will strive to protect big business which will mean no respite for ordinary people. There was a small economic 'Baghdad bounce' when the FTSE 100 share prices increased by 15% since their pre-war level but economic growth in the first quarter of this year was only 0.2%.
Chancellor Gordon Brown recently underestimated government borrowing by £1.2 billion and has overestimated future growth rates. A massive accumulation of debt has been fuelling consumer spending, but this is unsustainable.
With house prices now levelling off and unemployment likely to rise, spending will slow, pushing the economy into recession. The Ernst and Young Item Club predicts that Gordon Brown will need tax increases of as much as £15 billion to plug the gap in his figures.
Blair and those around him are preparing to counter future workers' struggles against further attacks. He said recently: "We will not give in, in any shape or form, to any resurgent trade union militancy". John Prescott has tabled emergency legislation to try to force firefighters to accept a pay settlement and worse working practices.
But it is only a matter of time before a section of workers enters into struggle, whether it be further action by the firefighters or others such as health workers, council workers or teachers. Easter's National Union of Teachers conference voted to refuse to implement the SATS exam system next year - SATS underlies much of the government's education strategy.
Public-sector union leaders are reflecting the discontent from below on low pay by calling for a minimum wage of £6.50 per hour. While the new HSBC chief executive, William Aldinger has set a new UK record of greed by taking a pay and perks package worth £37 million, average earnings have been rising at below the rate of inflation.
Socialist Party candidates on 1 May condemned the capitalist system for such an obscene wealth divide. But rather than echoing those who just bemoan it, we include in our programme the need to take into public ownership the top 150 companies and banks that dominate the economy, under working-class control and management.
Almost every Socialist Party candidate gained an increased vote on previous elections, showing growing support for a genuine socialist alternative.
---
Needed - new policies, not new voting methods
VOTING IN elections is at an all-time low; less than three in five of the electorate took part in the 2001 general election and local elections have only attracted an average of about a third of voters for some time now. Kevin Parslow reports on New Labour's attempts to overcome 'apathy'.
The government has introduced 'new' methods of voting in an attempt to increase participation: voting by e-mail, text messages or computer. None of these have significantly increased the votes in the two elections they have been tried.
However, the wider use of postal voting has seen a considerable rise in the turnout for local elections. In the 29 areas which had full postal voting, half the voters sent back their ballot papers, compared to an average of 35% in those which kept polling stations open.
Even in those areas 8%-10% applied to vote by post. The chief executive of Herefordshire, which had the highest turnout at 61% said: "Judging by our results, the traditional ballot box could be a thing of the past."
In fact, the working class fought for the secret ballot in the past. The 19th-century working class political movement, the Chartists, had this democratic demand in their programme. Previously, voting had been carried out in public, with voters bribed by the rich and powerful to support candidates of the ruling classes.
Everybody knew who was voting for whom. The secret ballot was vital to allow working people, who were gradually being given the vote, the right to vote for independent working class candidates.
But this is threatened because New Labour wants to 'modernise' the electoral system. Postal voting is potentially a throw-back to the past as sharp participants from the big political parties take advantage of the slack rules introduced by New Labour to manipulate the ballot.
There are several ways now that the ballot can be manipulated and it's the vulnerable in particular whose vote is being 'bought' by these political sharp practices.
Real choice
In reality, the reason for the low turnout in elections is the similarity in policies of the major parties.
If there is no choice, how do you decide who to vote for? British elections (and European, for that matter) have been 'Americanised', where the working class has only representatives of big business to vote for.
Under Thatcher, the Tories introduced postal voting for all trade union elections because they believed that this would prevent the election of officials who would more accurately reflect the interests of the membership.
But this manoeuvre is wearing thin with the election of the "awkward squad", officials who don't always accept what the bosses dictate.
In the wider political field, the erosion of our democratic rights can be prevented if the trade unions withdraw their support for New Labour and organise independent, working class candidates with socialist policies for all elections. Then, there will be real choice in elections and there would be real enthusiasm to vote.
---
Spectacular gains for Scottish Socialist Party
SCOTLAND'S POLITICAL establishment were licking their wounds after the Scottish parliament elections of 1 May. There were spectacular advances for the Greens and the Scottish Socialist Party (SSP), who between them won 13 seats - an increase of 11.
Philip Stott, Dundee SSP and International Socialist
Four independents were elected including Dr Jean Turner, a hospitals campaigner who won Strathkelvin and Bearsden from New Labour. Denis Canavan was also reelected in Falkirk with the biggest majority in the Scottish Parliament.
In contrast, there was a massive rejection of New Labour and the SNP. With the turnout falling below 50%, Labour's vote fell by 4% on the first vote (their lowest vote since 1931) and 5% on the second PR based party list vote.
The SNP, supposedly New Labour's main opposition, were shattered by the loss of 20% of their MSPs, reducing them to 27 MSPs from the 35 they previously held. The nationalists' pro-business agenda undermined their attempts to appeal to workers and young people. Their vote slumped by 5% on the first vote and almost 7% on the second.
It was the SSP and the Greens who between them captured the imagination of tens of thousands of those looking for a radical alternative to the establishment parties. Between them they won 250,000 second votes.
The SSP stood in 70 of the 73 first past the post constituencies winning 6.2% of the first vote. The party polled over 5% in 43 seats with Tommy Sheridan winning 28% of the vote in Pollok. Well over 100,000 people voted SSP on the first vote and 130,000 people voted SSP on the second vote - trebling the SSP's vote compared to 1999.
All the SSP MSPs were elected through the regional party list vote. In Glasgow the SSP won two seats, Tommy Sheridan and Rosie Kane. With 16% of the city-wide vote the SSP almost defeated the SNP who won 17% of the Glasgow second vote.
One SSP MSP was elected in four other regions: Lothians, Colin Fox; South of Scotland, Rosemary Byrne; Central Scotland, Carolyn Leckie; and the West of Scotland, Frances Curran. The SSP also won two council seats. Keith Baldassara won the North Pollok ward previously held by Tommy Sheridan.
The Greens did not stand in the constituencies, concentrating on the second vote where they won seven seats. A pensioners' campaigner won a list seat in Central Scotland and Margo McDonald, the former SNP MSP, won a seat on the Lothians list. Independent left and anti-establishment candidates, the Greens and the SSP took an incredible 20% of the Scottish second vote, and 10% of the first vote.
International socialists
MEMBERS OF the International Socialists (the Socialist Party's sister organisation in Scotland) stood as SSP candidates. Jim McFarlane polled 1,500 votes in Dundee West (6%) and Bruce Wallace in Angus doubled the SSP vote to win 1,300 votes.
The International Socialists proposed that we stood down in Dundee East where John McAllion, the socialist Labour MP, was standing. We also called on him to break with New Labour and help build a new mass party for socialism. John lost his seat by 90 votes to the SNP. This underlined the correct decision not to stand in an effort to maximise the socialist vote.
Probably Labour (50 seats) and the Liberal Democrats (17), will form another coalition Executive. For that Labour may have to pay the price of introducing PR for local government elections from 2007.
However the Greens may possibly back the new Executive in parliament while not formerly joining the coalition. This would be a variation of a "Red-Green" theme in Europe where the Greens have either entered coalitions as in Germany or backed the Social Democracy from the outside, for example in Sweden.
Whether there is a formal "traffic light" coalition involving the Greens or an informal one, support for the Greens will be undermined unless they maintain their distance from the Labour-Liberal coalition.
Resisting the pressure
We welcome the SSP's success, which will be welcomed by tens of thousands of working-class people across Scotland. This important breakthrough can also lead to a significant growth in the party's membership and influence.
Pressure on the SSP to adapt its socialist programme in favour of "practical measures" that can be implemented by the parliament will be intense. We fully support reforms such as the introduction of Free School Meals and the abolition of the Council Tax.
At the same time, it is essential that the SSP fights for public ownership of the major sectors of the economy under the democratic control of the working class as the only long term solution to poverty and inequality.
The socialist will carry more material on the SSP and its programme in a future issue.
---
Neo-Nazis blast a warning
THE NEO-Nazi British National Party (BNP) won 13 council seats in the elections and now have 16 elected local councilors. Their eight councillors in Burnley now make the BNP the official opposition to Labour.
This and other gains means a certain political breakthrough for the BNP, who have struggled to hide their neo-Nazi ideas to gain votes and new members, although they are still far from an important national force.
Naomi Byron, secretary, Youth against Racism in Europe and Clare James, national organiser International Socialist Resistance
Many seats were won with very small majorities, and they failed to make the breakthrough they hoped for in areas like Sunderland (where they stood 22 candidates but none were elected).
The election of further BNP candidates is dangerous however, encouraging increasing divisions, racial tensions and prejudice locally.
The BNP's leaders and key activists are neo-Nazis, believing that whites are superior to all other races. Their ultimate aim is a Nazi dictatorship, like Hitler in Germany or Mussolini in Italy, that can smash all working-class organisations and democratic rights.
They use racism and all other common forms of prejudice, to divide working-class people and help big business to keep exploiting us all.
The BNP leadership have been trying for years to build a far-right party which can attract support beyond a few scattered individuals. Time and again they have failed, defeated by mass movements against racism and fascism.
But now, when millions are alienated from mainstream political parties and looking to punish the establishment, the BNP try to 'rebrand' themselves and lose their neo-Nazi image.
The asylum issue undoubtedly helped the BNP, particularly after many mainstream newspapers and politicians linked it to the terrible level of local services (in fact produced by years of cuts and privatisation). BNP members are delighted that the media and mainstream political parties are 'legitimising' their anti-asylum seeker views in this way.
Particularly in relatively better-off areas with a mainly white population, racism was a big factor in BNP's votes. However, most BNP voters are not convinced neo-Nazis, or even support all of the BNP's public (very watered-down) policy statements.
Most people who are eligible to vote don't vote in local elections, not seeing any point in voting for careerist politicians who promise the world and then do exactly the same as the party that were in before, while services are allowed to run down.
Much of the BNP's new vote comes from people who don't agree with the BNP on many issues but want to punish the establishment and the careerist politicians who represent it.
Sadly any progress for the BNP, with their policies of division and hatred, will make it harder for local communities to unite in campaigns to improve services and end the neglect that they have suffered for years.
The establishment is uncomfortable at the BNP's growth and fears that a new anti-racist movement could develop in response. New Labour and other mainstream politicians argued for people to vote for any of the three main parties, whether you agreed with them or not, just to keep the BNP out. But it's their unpopular policies that opened the door to the BNP.
To halt the BNP's growth we need to build an anti-racist movement and a genuine left alternative to the mainstream political parties and the far right. Such an alternative must take up bread-and-butter issues like jobs, housing, low pay and privatisation. It must oppose the pro-big business policies of New Labour and the BNP with working-class unity and the power of the trade union movement.
Home | The Socialist 10 May 2003 | Subscribe | News