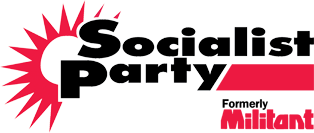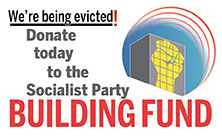 Archive article from The Socialist Issue 300
---
Home | The Socialist 17 May 2003 | Subscribe | News
Join the Socialist Party | Donate | Bookshop
Coventry Socialists:
Standing Up for Working-Class Communities
AFTER THE local elections on 1 May, Coventry City Council went from being Labour-controlled to no single party having enough seats to be able to form an administration.
The seats broke down as follows: Lab 26, Tory 23, Socialist 3, Liberal Democrat 2. Subsequently, one 'Old Labour' councillor resigned and now sits as an independent.
Socialist Party councillor David Nellist, after discussions with community groups and Coventry trade unionists, sent a letter to the leader of the Labour Group, on behalf of the Socialist Group on the council.
The letter outlined what would be required for Socialist councillors not to oppose Labour's nominees to head a minority administration.
This presented the Labour Group - including Labour councillors who have expressed 'reservations' about Labour's anti-working-class policies - with a choice: to stand against Blair's 'New Tories' or seek support from the other pro-business parties on the council to form an administration.
However the Labour Group did not accept these proposals, preferring to rely instead on the Tories to form an administration.
Here are some extracts from that letter. We hope to publish fuller extracts from the Socialist Group's extensive list of 'minimum' demands later:
An end to the obsession with "luxury housing" as a means of "regenerating" the city. Any new housing project to have at least 40% of the development to be let as affordable rented homes to those in need.

A campaign for more government funding to provide a les restrictive regime of grants to owner-occupiers in need, for housing modernisation and improvements...

An end to all proposed and future PFI, PPP and privatisation schemes ...

Opposition to the government's surplus places formula that has led, and will lead, to school closures in our city...

Additional provision of integrated youth services, new venues and projects for young people in all communities, starting with a youth centre providing music, drama, art and other facilities in the proposed Bond street development...

Abolition of appointed Chairs of Area Forums... Chairs to be elected each year by local Area Forums themselves... area forums to organise democratic and representative community conferences at least once a year to look at service needs and accountability

Area Forums to have budgets for specific local initiatives...
Home | The Socialist 17 May 2003 | Subscribe | News