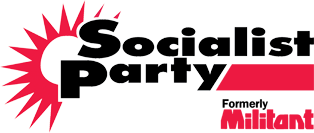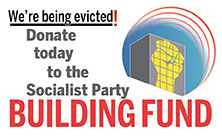 Archive article from The Socialist Issue 309
---
Home | The Socialist 19 July 2003 | Subscribe | News
Join the Socialist Party | Donate | Bookshop
Weapons of mass destruction
A Web Of Lies From Day One
THE JUSTIFICATION for Bush and Blair launching a destructive war on Iraq was based on a lie. Who says so? CIA director George Tenet. The US chief spook now admits he was wrong to let part of an 'intelligence dossier' compiled by Tony Blair's government be included in George Bush's state of the union speech last January.
Tony Blair's much criticised "dodgy dossier" of September 2002 claimed that Saddam Hussein had sought a new source of uranium from the African state of Niger to reactivate a nuclear weapons programme. This claim was investigated by the International Atomic Energy Agency and found to be based on forged documents.
Moreover, former United Nations chief weapons inspector Hans Blix has rubbished Blair's claims that the Iraqi dictator could launch weapons of mass destruction (WMDs) against British interests ie. Cyprus, within 45 minutes.
But why stop at telling just a couple of whoppers - Blair can make a whole industry out of lying. Unrepentant, Blair said on 13 July: "Nobody was in any doubt of the threat posed by Saddam... When we see the Iraqi people making at last the first tentative steps towards self-government announced today and when the UN representative is already talking about 300,000 people in mass graves, then I hope that at least one thing we can agree on, the world is more secure, Iraq is a better place."
No, I don't think we can Tony! On the day that the US's 'pro-consul' in Iraq, Paul Bremer, inaugurated his unelected, hand-picked 'government', another bomb expl-oded in Baghdad.
Meanwhile, Iraqi civilian and US and British military casualties steadily mount in the anarchy that passes as a country. And with mass unemployment, growing poverty, a wrecked infrastructure, inter-ethnic and social conflict, an increasingly despised US/British occupation force preoccupied with oil production and privatisation, the world isn't "more secure" nor is Iraq "a better place".
Home | The Socialist 19 July 2003 | Subscribe | News