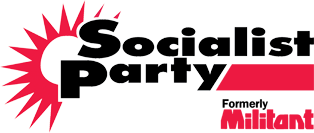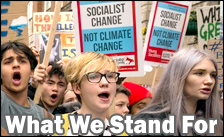 Archive article from The Socialist Issue 309
---
Home | The Socialist 19 July 2003 | Subscribe | News
Join the Socialist Party | Donate | Bookshop
Guantanamo Bay:
In the name of "freedom"
"HONOR BOUND to Defend Freedom" reads the sign at US maximum security Camp Delta, Guantanamo Bay, Cuba. Inside 680 men from 42 countries are being held - rounded up following George W Bush's declaration of 'war on terror'. The cells are 2 metres by 2.5 metres. The prisoners are allowed out for half an hour a day, bound hand and foot.
Manny Thain
Six are to stand trial. Among them, Ferroz Abbasi, 23, from Croydon, Surrey, and Moazzam Begg, 35, from Sparkbrook, Birmingham. What they may or may not have done is not the issue here. That they won't get anything approaching a 'fair' trial is. They have been held for 18 months, firstly at Bagram airbase, Afghanistan, then at Guantanamo Bay. They have not been charged.
The Pentagon 'Appointing Authority', under defence secretary Donald Rumsfeld, will appoint the tribunal to try them and can remove a judge at any time without giving a reason. The suspects will be denied a free choice of defence counsel. They will be unable to cross-examine witnesses.
Much of the evidence will be heard behind closed doors, and can be submitted by telephone and under pseudonym. If a right of appeal is incorporated, it will be to another panel appointed by the Pentagon.
The six face a stark choice: plead guilty and accept a 20-year prison sentence; or be executed if found guilty. The threat of brutality to extract information or confessions is regarded in 'international law' as worthless. According to Matthias Kelly, chairman of the Bar Council, tribunals "flout just about every rule of international law. There is a complete ignorance of international legal standards explicit in the process". (Financial Times, 12 July)
In the name of 'freedom', the US regime argues that since Guantanamo Bay is not on US soil the detainees are not subject to US law. And designating them "unlawful combatants" means that they are not covered by the Geneva convention. Clearly, the only rules the White House follow are those in its own interests.
Campaigners want them to stand trial in Britain. Most of the evidence, however, would be inadmissible in a British court - or in the US for that matter. Last year, Bush told people to 'remember' that those "in Guantanamo Bay are killers. Terrorists. They don't share the same values we share". Bush doesn't want to repatriate them only to see them walk free.
And Tony Blair has shown no intention of raising any serious criticism. This week he flies to the White House to receive a reward for his obedient service to the brutal domination of US imperialism.
Home | The Socialist 19 July 2003 | Subscribe | News