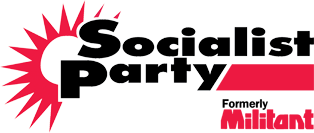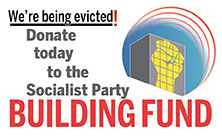 Archive article from The Socialist Issue 309
---
Home | The Socialist 19 July 2003 | Subscribe | News
Join the Socialist Party | Donate | Bookshop
Fight For Trade Union Rights In Colombia
There are many companies in Colombia who use violence and repression to try and stop trade union activists.

184 trade unionists were assassinated in Colombia last year, more than the rest of the world combined.
Wales ISR
Sinaltrainal (the National Union of Workers in the Colombian Food Industry), has appealed for support from workers around the world and called for a boycott of Coca-Cola from 22 July.
A private army of paramilitaries has terrorised the workforce and tried to smash the union. They have so far assassinated eight workers who were local union leaders and three union members have been forced into exile. Over 60 live under the shadow of death threats and 48 others have been displaced.
Sinaltrainal union president, Javier Correa, describes conditions in Coca-Cola's Colombian bottling plants: "The paramilitaries have graffitied threats and accusations against us on the walls of the bottling plants. These plants have become like concentration camps. The army patrols the buildings. There is so much repression that union workers are even followed into the toilet. One worker killed himself. In his suicide note he blamed Coca-Cola".
And he explains the corporation's attitude:
"Coca-Cola has turned from a time of exploitation to a time of slavery. Because the workers continue to resist this oppression the paramilitaries now try to kidnap family members. They've burnt union headquarters and destroyed whatever evidence they can so we are unable to bring a case against them."
ISR members and supporters will be holding protests on 22 July in support of trade union rights for the Coca-Cola workers and all workers across Colombia who face similar repression.
Join the international day of action on 22 July, join your local protest or action.

From 22 July tell your friends to boycott Coca-Cola

If you are a member of a trade union, ask your local branch to sponsor the campaign in solidarity with Sinaltrainal and other Colombian unions attacked by the paramilitaries (contact us for model letters or resolutions to take to trade unions)

Whether you are in a workplace, school or college, ask your friends, people at work etc to sign the petition in support of the Colombian Coca-Cola workers. Send copies to us and we will send all the signatures collected with a letter of support to the Sinaltrainal Coca-Cola workers.

Organise a meeting at your union/college/school in support of Colombian workers with an ISR speaker or contact the Colombian Solidarity Campaign, PO Box 8446, London N17 6NZ
---
Leicester:
Meet at the Clocktower, Leicester city centre at 12.30pm.

ISR meeting - How the Coca-Cola day of action went. Planning for future actions. 7pm Secular Hall, Humberstone Gate.
London:
Protest outside Coca-Cola HQ (1 Queen Caroline St, Hammersmith, London, W6 - nearest tube Hammersmith) at 4pm. Then join other protests in Piccadilly Circus.
Manchester:
Meet at central library, St Peters Sq at 11am. Longsight market at 12.30pm.

Protest outside Granada Studios at 3pm. - Granada's football coverage is sponsored by Coca-Cola. Contact Rob Jones: 07739 010 208.
Wales:
Contact Sarah 0781 6869382 for details of protests.
There will be more protests and actions taking place around the country. To find out what's happening in your area or if you want help in organising your own protest, please contact ISR on 020 8558 7947.
---
Low Pay - No Way!

Did you know that the chief executive of Tesco receives £916,000 a year basic salary? If he works a 40 hour week this means he gets £440.38 an hour! On top of this obscene pay, he received 'additional benefits' during 2002 bringing his total pay package to £2.8million!
Clare James, ISR national co-ordinator
Yet a 16 year-old Tesco worker can get paid as little as £3.77 an hour, less than 1% of what the chief executive earns.
While the bosses and managers say that they can't put up our pay or improve our conditions, they always find the money to pay themselves fat-cat wages! We do the work that produces huge profits for our employers and all we get in return is poverty pay.
It is low pay, job losses and bad working conditions, as well as privatisation and other cuts in public services, that are leading more and more workers across the country to take strike action.
International Socialist Resistance (ISR) members in workplaces are campaigning for more young workers in every job to get organised and fight back too.
As young people we are often forced to work in shops, bars, catering or factory work. Many of these jobs are low-paid, casual, part-time and in unsafe working conditions. The government, under huge pressure from workers fed up with poverty wages, introduced the minimum wage. Yet the levels set are still too low - £4.20 an hour if you are over 22 and an even lower rate, £3.60 an hour, for 18-21 year olds. There is no legal minimum for workers under the age of 18.
ISR is campaigning in Britain and internationally against employers that are exploiting young workers in sweatshops, paying poverty wages and providing unsafe working conditions.
We demand:
The immediate introduction of the current trade union minimum wage demand (such as the T&G demand for £6 an hour) as a step towards the EU decency threshold of £8.50 an hour (£320 a week).

An end to exemptions and lower rates of pay for young people.

The right to a job, training and free quality education.

No to employment agencies that cream off huge percentages of workers' wages.

Scrap the New Deal for young people, Job seekers' Allowance and Welfare to Work. For full benefits without compulsion.

A network of free, good quality childcare.

A fighting and democratic trade union movement which represents all workers, including agency and casual workers.
If you would like to get involved in our campaign, find out more etc, please get in touch.
---
INTERNATIONAL SOCIALIST Resistance (ISR) is an international anti-capitalist youth organisation with groups in many different countries.
Initiated by the Socialist Party, ISR is a democratic, broad organisation fighting for a socialist alternative to capitalism.
For more details write to: ISR, PO Box 858, London, E11 1YG. Tel: 020 8558 7947. againstcapitalism@hotmail.com
Home | The Socialist 19 July 2003 | Subscribe | News