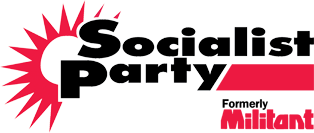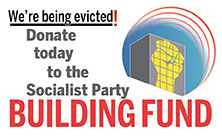 Archive article from The Socialist Issue 324
---
Home | The Socialist 22 November 2003 | Subscribe | News
Join the Socialist Party | Donate | Bookshop
CWI - Building Socialism Worldwide
THE SOCIALIST Party is a member of the Committee for a Workers' International (CWI) which has sister organisations in more than 36 countries across the globe.
Tanja Niemeier
Internationally, we are determined to fight the capitalists' neo-liberal policies and are engaged in the struggle for a socialist society, a society that puts people before profit.
In a number of countries, we have been to the fore in fighting not only against Bush's and Blair's vicious war on Iraq but also against racism, attacks on the living standards of working-class people, defending the right of education and against militarisation.
Below you will find just an excerpt of the different campaigns we have been involved in in different parts of the world.
If you are interested in finding out more about the CWI, contact us or see our website.
Greece - Xekinima
4,000 people took part in an anti-racist rally in support of the legislation for refugees' and immigrants' rights in Athens on October 18. It was a protest against the hypocrisy of the Greek government. Even though the legislation addressed many of the rights issues, the racist approach of the Greek state meant that many immigrants have been unable to get a stay and obtain work permits.
Xekinima and Youth against Racism in Europe campaigned heavily for this demo, visiting the immigrant communities, Sunday churches... We produced leaflets and stickers in three different languages. We had a very lively and colourful contingent with up to 500 people. It was the only contingent with African, Asian, Greek and other workers and youth marching together.
Ireland - Socialist Party
The Socialist Party in Ireland has been crucial in setting up Anti-Bin Tax campaigns and in arguing in favour of mass non-payment against what we call 'the double taxation of working-class people'.
The Irish government introduced a separate tax for bin collection even though the vast majority of working class people already pay for services such as the bin collection through their PAYE tax (Pay As You Earn). The idea of mass non-payment has been taken up in various working class communities around Dublin.
After a short while though, Dublin's councils decided to only collect bins of payers and to leave others behind. This was seen as a clear attempt to break the movement. People then decided to organise blockades to stop and prevent bin lorries from collecting the paid bins only. In many cases, the bin collectors and lorry drivers were very sympathetic towards the peaceful blockades.
This, however, was not the case with the local councils. They started to arrest people and drag them to court, where the judges jailed them and/or applied large fines.
So far, 22 people have been jailed. Amongst them Socialist Party TD (MP) Joe Higgins and Socialist Party councillor Clare Daly.
On 3 November two young Socialist Party members, Fionn and Dave, got a 21-day prison sentence. They are only allowed a one hour visit a week. We ask you to send letters of support to freedaveandfionn@hotmail.com
Germany - Sozialistische Alternative (SAV)
The German social democratic-green government has launched the most vicious attacks on living standards since the end of world war two.
They want to destroy the NHS, cut down unemployment benefit, increase the working week as well as the retirement age, etc. At the same time, they are decreasing taxes for the super-rich.
100,000 people from across the country took to the streets in Berlin on 1 November. The initial idea to organise this demonstration was raised by SAV members.
SAV also organised a 800-strong contingent, a very lively youth section on the demo and had a main speaker on the platform. In the run up to the demo, SAV in Kassel, together with "Youth against cuts" organised a school students' strike against social cuts with 1,500 participants. This is only just the beginning of a very 'hot' period for the hated government. Currently, SAV is campaigning for a one-day general strike to be organised by the trade unions to defeat the government's plans.
Australia - Socialist Party
Bush does not only visit his ally Blair, he also made his way down to Australia to visit his other ally premier John Howard. The Socialist Party was an integral part of the 2,000-strong demonstration that marched through Australia's capital Canberra to make clear that Bush was not welcome.
We got good press coverage and tried to make clear that we were not out to only protest against the ongoing war and occupation of Iraq but also against Howard's attacks on living standards. That is why we have also set up UNITE, a campaigning organisation that organises casual and low-paid workers and fights against the exploitation of young people in the workplaces.
Nigeria - Democratic Socialist Movement (DSM)
Currently, the CWI's second largest section is the DSM. It has been in the forefront of struggles against repeated attempts by the government to increase fuel prices.
DSM is the largest socialist organisation in Nigeria and played a prominent part in the trade union and community coalition against fuel price increases, arguing both for general strike action against the government plans and for a socialist political alternative.
Contacting the CWI
To contact CWI members differs from country to country, Some you can contact directly. For others, it is easier to do it via the CWI offices in London. e-mail to the International Office of the CWI: cwi@worldsoc.co.uk
Contact us at PO Box 3688, London, Ell 1YE, Britain.
Phone: + 44 (0)20 8558 5814.
Fax: + 44 (0)20 8988 8793.
Home | The Socialist 22 November 2003 | Subscribe | News