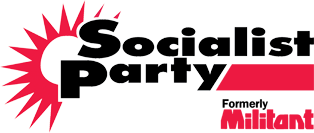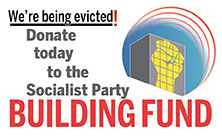 Archive article from The Socialist Issue 336
---
Home | The Socialist 28 February 2004 | Subscribe | News
Join the Socialist Party | Donate | Bookshop | Print
EU Enlargement Brings Benefits For The Bosses
THE NEW Labour government says it will be 'regulating' the number of migrant workers who are allowed to come to Britain from the ten countries, mainly in Eastern Europe, which will be joining the European Union on 1 May.
Home Secretary David Blunkett has announced that all migrant workers from the East European accession states will have to register with the government and will not be entitled to claim unemployment benefits until they have worked continuously for a year in the UK.
This new 'tough' talk is a knee-jerk reaction because of a fear of the electoral consequences, in a situation where the right-wing press has hysterically warned of 'swarms' of East Europeans 'flooding' into the UK as 'benefit tourists'. Against a background of New Labour's constant cuts in the welfare state, this has inevitably created fears amongst wide sections of the population.
The government is threatening to deport migrants who fail to find work to prevent them claiming benefits, despite criticism from immigration experts. Keith Best, the chief executive of the immigration advisory service, has pointed out that new migrants from Eastern Europe will already be excluded from benefits under the existing rules. The government says it only expects that 12,000 to 13,000 people will come to the UK each year but will restrict numbers if more come in.
Cheap labour
DESPITE MAKING it harder for East European workers to claim benefits, Blair and Blunkett want to encourage migrant workers as cheap labour for the bosses.
Already many thousands of workers from Eastern Europe are living and working in the UK. They are often doing jobs that local people won't. For example, around 30,000 people came last year under a special scheme to provide seasonal work for agriculture. Up to 10% of the 100,000 building workers in the UK are also thought to come from Eastern Europe.
While allowing migrant workers in through legal channels, where they have some rights, is much better than abandoning them to people-traffickers (as the Morecombe cockle-pickers were) they will still be expected to do the lowest paid most back-breaking work.
Benefit system
THE GOVERNMENT'S insistence that migrants from the accession states must not claim benefits has gained an echo among many people in the UK, painfully aware of how difficult it is now for people to claim the miserable amount of benefits they are entitled to.
However, the problems in the benefits system are not due to pressure from the number of people claiming unemployment benefits, which (at under 900,000) is at its lowest level since 1975. For the last 25 years the bosses and their representatives in government (the Tories and now New Labour) have carried out ruthless attacks against the working class. Their aim is to maximise their profits by making us work harder and longer for less, and destroying the 'expensive' welfare state.
New Labour's attempts to deny benefits to migrant workers are aimed at creating a section of the workforce who will be forced to take any job, at any wage, because they have no other option. If New Labour and the bosses can get away with it, they will use this most exploited section of workers to drive down wages and conditions for everyone else.
Migration to Britain is going to continue. The restoration of capitalism in Eastern Europe has meant massively increased poverty. While the vast majority of Eastern Europeans have no interest in coming to Britain - in a situation when unemployment is now 36% in parts of Poland and there have been food riots in Slovakia - it is inevitable that some will want to try and improve their lot by working abroad. Only a trade union movement prepared to unite migrants and existing workers and organising to fight for the rights of both can prevent the bosses getting their way.
---
The countries joining the EU are Hungary, Poland, the Czech Republic, Slovakia, Slovenia, Estonia, Latvia, Lithuania, Malta and Cyprus.
Together they have a population of 75 million, or 1/5 of the population of the current EU states (374 million).
Most of the existing EU states are restricting the free movement of labour from Eastern Europe. However migration between Cyprus and Malta (richer countries with smaller populations) and the rest of the EU will not be restricted.
Around 300,000 people currently enter the UK on a documented basis each year.
Home | The Socialist 28 February 2004 | Subscribe | News