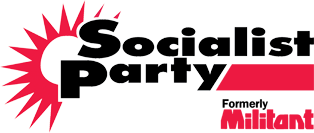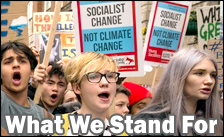 Archive article from The Socialist Issue 342
---
Home | The Socialist 10 April 2004 | Subscribe | News
Join the Socialist Party | Donate | Bookshop | Print
Military Families Speak Out Against Bush's War And Lies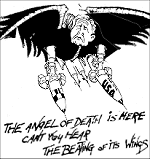 BUSH'S occupation of Iraq is facing increasing questioning and resistance within the US.
PATRICK AYERS, (from the socialist's sister paper in the US, Justice), spoke to CHARLEY ROBINSON, one of the founding members of Military Families Speak Out (MFSO), an organisation that has quickly moved to the forefront of the anti-war movement.
Bush - Angel of Death - Cartoon by Alan Hardman
JUSTICE: How did Military Families Speak Out come about?
CR: Our son Joe was deployed in August 2002, and we could see already that war was developing. We realised that as a military family we had an important need to speak out and also be a voice that would have a significant impact on others.
In October 2002, we ran into another father of an army pilot. We talked on the phone and we decided to start MFSO. We have over 1,000 families now, spread out across the country and even in other countries as well.
JUSTICE: Is there any indication of growing support for an end to the occupation among US troops in Iraq?
CR: You can see surveys in Stars and Stripes [forces newspaper] and other places that say morale is low and that there is a large number of troops who are questioning war.
I also think they are upset with the way the administration has used and treated the troops. They sent them over based on lies, which is of course the big thing and then they didn't provide them with proper equipment.
The misuse and overuse of the troops have led to morale problems and troops speaking out against the war itself.
JUSTICE: MFSO is campaigning around the slogan "Bring Them Home Now!" There is a lot of debate in the anti-war movement about slogans. What was the thinking behind this one?
CR: In some ways it's very simple. The US occupation of Iraq is the problem, not the solution. As long as there are 130,000 US troops with guns over there, the process of rebuilding Iraqi society can't take place. We believe very strongly that a decision to bring the troops home now is the critical one.
On a practical note, people say: "You can't bring the troops home now." The reality is that the decision to bring the troops home now doesn't mean the Iraqi people are tomorrow going to wake up and wonder where the US military went.
It will take several months to get US troops out of there. That is the time in which the Iraqi people can discuss their needs and ask for help if they need it, but help from somebody other than the occupying force of the United States.
JUSTICE: What activities does MFSO have planned for the near future?
CR: We're involved in small and large events all over the country. We're involved in the "Dover to DC" event, which will include a demonstration outside Dover Air Force base, where the bodies of troops killed in Iraq are returned.
The press has been denied access to Dover. The families have been denied access to Dover. It's part of the Administration's effort to hide the true costs of this war.
We were involved in the events on 20 March, the one-year anniversary of the invasion of Iraq. Events were planned in small towns and large cities across the nation. From Des Moines, Iowa, Wisconsin, Michigan - all over the place - there were events where military families were involved.
JUSTICE: How can Justice readers help the "Bring Them Home Now!" campaign?
CR: People should do everything they can to work against this war, against this occupation. I think we have an opportunity to bring the people into a movement saying: "You know, this war was too much before it started, but now we have over 600 American lives and untold Iraqi lives sacrificed in this invasion and war, and it's time to bring it to an end."
Justice website, the US sister section of the Socialist Party: www.socialistalternative.org
---
See the MFSO website: www.mfso.org
---
US Soldiers Demoralised
THE US military after much delay has published a report showing that 23 US soldiers committed suicide in Iraq last year and another seven suicides of soldiers who had returned home. This is a higher rate amongst US forces than during the Vietnam war.
Military Families Speak Out (MFSO) claim that soldiers suffering from post-traumatic stress disorder were being pressured into returning to active duty in Iraq.
A spokesperson for MFSO said:
"The attitude [of the army] is: as long as you can breathe you can be deployed."
---
---
Home | The Socialist 10 April 2004 | Subscribe | News