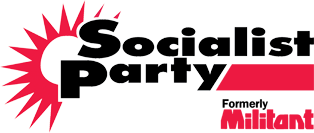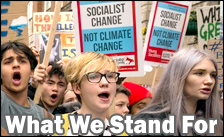 Archive article from The Socialist Issue 342
---
Home | The Socialist 10 April 2004 | Subscribe | News
Join the Socialist Party | Donate | Bookshop | Print
Iraq: Coalition Plans In Chaos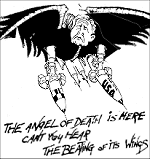 THE US led-occupation forces in Iraq are sinking deeper into a political mire. Far from "pacifying" the dissident population groups, armed attacks on coalition forces and street demonstrations are growing.
Bush - Angel of Death - Cartoon by Alan Hardman
50 US troops and 2 others from the occupying powers were killed in the first nine days of April, equaling the total for March. By the end of Easter Friday the US forces had killed at least 450 Iraqis in attacks on Fallujah condemned as "genocide" and "Illegal" even by members of the US appointed Iraqi governing council, with over 1000 wounded.
Last week, at least 20 people in Najaf were killed, mostly Iraqi supporters of the pro-Iranian hardline cleric Muqtada Sadr, following armed clashes with Spanish troops.
A reported seven US troops and 22 Iraqis died in fire-fights as coalition forces, using helicopter gunships, battled to regain buildings seized by Sadr's militia in Sadr City, the poor Shia district of Baghdad.
The clashes with Sadr's right-wing Islamists - the Mehdi Army - followed the closure of his movement's newspaper and the arrest of one of his aides. An arrest warrant for Sadr has now been issued. Further clashes between US forces and his supporters are expected.
His followers also occupied the governor's offices in Iraq's second city of Basra where police guarding the building were said to be "co-operating" with the demonstrators.
Earlier, in Basra, Iraqi police backed by British troops dispersed an angry crowd of unemployed demonstrators who were demanding jobs.
US troops, backed by tanks, also sealed off Fullujah and its 300,000 inhabitants and have begun a massive assault on the city. This follows the grisly killings of four American private security guards in the town last week.
Civil war
The plan by Iraq's US pro-consul Paul Bremer of a transfer of power to a civilian administration by 30 June looks doomed. Not that this new hand-picked authority with its unworkable constitution was ever going to succeed in creating a democratic and stable Iraq.
Senior Republican and Democrat senators on the US Senate foreign relations committee say the deadline should be dropped to avoid the country slipping into civil war. But a civil war could happen anyway given the interests of the sectarian political leaders of the Shias, Sunnis and Kurdish population groups.
However, the failure to meet this deadline set by the White House administration would represent a major political setback to George Bush in the run up to November's US presidential election.
---
A CNN poll showed US support for Bush's handling of the war falling from 51 percent to 44 percent since the end of March.
---
---
More in future issues of the socialist.
A socialist programme for Iraq see our antiwar pages and www.socialistworld.net
---
Home | The Socialist 10 April 2004 | Subscribe | News