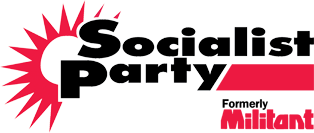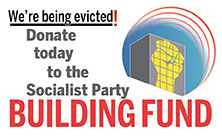 Archive article from The Socialist Issue 353
---
Home | The Socialist 26 June 2004 | Subscribe | News
Join the Socialist Party | Donate | Bookshop | Print
What we think
Bosses' Club Agrees A Constitution
"LIKE BARGAINING in a bazaar" was how the new Spanish prime minister, Zapatero, referred to the recent European Union (EU) summit to agree a new EU constitution. While downing expensive wines and luxury foods, Europe's leaders were rudely squabbling and throwing vitriolic insults at each other.
After this haggling, a constitution treaty was agreed at the eleventh hour. But fighting continues, with 'power blocs' forming over who will be awarded the top political post of European Commission President.
Despite their new treaty, the new constitution for the enlarged 25-state EU may never be implemented, as up to ten countries may have a referendum on it. A 'no' vote in just one of them could well be enough to stop it.
If it does see the light of day, more inroads towards a 'two tier' EU are enshrined in it. This is because the price of Tony Blair's insistence on British vetoes on some issues has been to allow France and Germany to press ahead with integration on those issues, in a smaller group.
Eurosceptics
Contrary to the views of the strongest Eurosceptics, the constitution will not bring in a European 'superstate'. The EU would still be a collection of 25 capitalist nation states who are transferring some issues to EU institutions - which they can withdraw from in the future. It would, however, aid the neo-liberal agenda of all these states, as it says that member states must act in accordance with the principle of an open market economy and free competition.
Recent British polls showing that most people don't know what is in the constitution are hardly surprising. Far from being accessible to Europe's school students, as originally planned, the constitution is 330 pages of legal complexity. Many of the detailed consequences of it will only be clear over time when tested out in courtrooms.
Ambivalence or hostility regarding Europe is rife among ordinary people. Whereas the potential benefits of economic and social collaboration across borders are generally understood, their experience of this on the basis of capitalism has been one of increased cuts and other attacks on living standards. The EU is also well known as being ingrained with corruption and fraud. These views were reflected in an unprecedented rate of abstention in the EU as a whole in the Euro-elections three weeks ago.
Opposition
In Britain, Blair puts present overwhelming opposition to the new constitution down to 'ignorance'. But it has more to do with the fact that it is he himself who is promoting it, coming fresh from his lies over Iraq and years of anti-working class measures.
A layer of pro-EU politicians and some trade unionists oppose Blair over the constitution because of his negotiated 'opt out' clauses, especially on employment rights. They seize on the divisions between European capitalist governments over how fast to proceed with a neo-liberal agenda, placing their eggs in the basket of those they view as more 'worker friendly' such as France and Germany.
However, all the capitalist classes of Europe are after deregulation, privatisation and cuts in the interests of their profits, so it's necessary to oppose their European aspirations in any guise.
The French and German governments are in fact trying to follow in Blair's footsteps by rolling back previous gains of the working class, with the pace of this being determined by the force of mass opposition and certainly not by any innate goodwill towards workers.
The socialist, while fully supporting increased links between workers throughout Europe and internationally, opposes the whole capitalist enterprise of the EU and its treaties. We also oppose a 'social Europe', as any kind of capitalist Europe will in reality be anti-social, with cuts and privatisation.
Only on the basis of socialism, through a socialist confederation of Europe, can European economic and other links be developed in a way that will universally benefit working and middle class people, raising living standards instead of undermining them.
Home | The Socialist 26 June 2004 | Subscribe | News