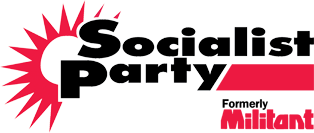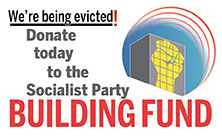 Archive article from The Socialist Issue 356
---
Home | The Socialist 17 July 2004 | Subscribe | News
Join the Socialist Party | Donate | Bookshop | Print
What we Think
Brown's Jobs Cull - Unions Must Strike Back
THE CULL of civil service jobs, a key plank of Gordon Brown's public spending review (12 July), is even more brutal than most workers expected.
Over 100,000 civil servants, who will lose the jobs to save £21.5 billion a year, will pay dearly for a shift of public expenditure to health, education and a few other services. Mark Serwotka, general secretary of the PCS, has rightly described this as a jobs "massacre".
New Labour's assault on civil service jobs is an attack on the whole working class. It is comparable to Thatcher's attack on the miners in 1984. The defeat of the NUM opened the door to a sweeping assault on the living standards and rights of both public- and private-sector workers.
In some ways, Brown's assault goes further than Thatcher. In 1984 there were about 190,000 miners, with Thatcher initially proposing to slash 25,000 jobs - or 12.5%. Brown wants to cut 20% of current civil service jobs.
Mobilise for action
If New Labour succeeds, the quality of public services will deteriorate. Civil service jobs will be partly replaced by agencies employing more low-paid, part-time, casual workers, without sick pay, paid holiday, pension rights and other benefits.
If Brown and Blair defeat civil service unions, they will be emboldened to attack other sections of workers.
It is now urgent for civil service unions, especially the main union, the PCS, to mobilise for action to stop New Labour's job massacre. They should follow the example of workers in France, Germany and elsewhere on the continent, who have recently taken bold strike action against privatisation, pension cuts, and other attacks.
A 24-hour strike of all civil service workers would be a bold first step in the fight back. Beyond this, however, we need a 24-hour public-sector strike, prepared by local rallies and intensive preparation. A low-key Saturday rally, like the recent pensions protest, is not enough.
The PCS should directly approach other public-sector unions, such as Unison, TGWU, NUT, GMB, FBU, RMT, CWU, etc, to call a public-sector workers' conference to plan for action. The PCS should also put pressure on the TUC to support such strike action.
All these unions have recently been involved in industrial action against privatisation, cuts and worse conditions. It is time to bring these struggles together in joint industrial action across the public sector.
Experience has shown that Blair, Brown and company will not listen to appeals, or bend to limited protest action. New Labour long ago abandoned policies of social reform and improving workers' rights. Both Blair and Brown are committed to a pro-big business, pro-market agenda.
They will only be stopped by determined industrial action, bringing together the widest possible sections of public-sector workers.
The government is targeting civil service workers first, branding them as 'bureaucrats', in an attempt to isolate them from other sections of workers. This tactic must not be allowed to succeed. It is a thin end of a vicious wedge aimed against workers generally.
We need bold, determined action now. A 24-hour strike across the public sector at the end of the holiday period should be the first step towards determined industrial resistance to New Labour's anti-working class policies.
---
Against Jobs Carnage On Whole Public Sector Spending Review
---
Home | The Socialist 17 July 2004 | Subscribe | News