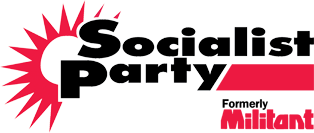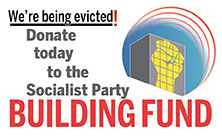 Archive article from The Socialist Issue 358
---
Home | The Socialist 7 August 2004 | Subscribe | News
Join the Socialist Party | Donate | Bookshop | Print
NHS:
Throw Out Agenda For Change Now!
THE PAY and job evaluation package for health workers, Agenda for Change (AFC) is proving a problem for management and the national trade union leaders. Disturbing reports have now been received from England's 'early implementers' and from Scotland.
Joanne Smith
There is no doubt that the health trade unions needed to negotiate and fight for improved conditions for staff. The lowest paid ancillary workers were working a 39-hour week when the majority of NHS staff worked 37.5 hours or a minority 35 hours a week. The lowest paid also received the lowest holiday entitlement.
But Socialist Party members in the NHS have always been opposed to AFC, arguing that it would never end low pay or pay inequalities. Pay cuts and an increase in the working week were the real agenda for change.
Cleaners, domestics and porters receive poverty pay and the worst benefits. The continuation of numerous different terms and conditions dependent on job type is wrong, unfair and discriminatory. Equal pay claims in hospitals but particularly in Carlisle, have demonstrated how the existing grading systems have discriminated against large numbers of women workers.
Shocking results
Because of these inequalities, the trade union leaders were able to convince both health union conferences and ballots of members that AFC should be given a trial in 'early implementer' (EI) sites.
But the shocking results have meant union leaders abandoning written reports for the moment.
A paper exercise in West Lothian would apparently result in 50% to 60% of staff being downgraded or suffering pay cuts. Even with limited pay protection a substantial number of health service workers in Scotland would face crippling pay cuts in a few years time.
Union leaders reported verbally to UNISON's national service group executive and to regional heads of health in meetings held between 27 and 29 July.
Apparently UNISON senior negotiator Paul Marks told the regional heads of health that if the proposed new pay system went to a vote at UNISON conference now it would be thrown out overwhelmingly. He has also admitted to officials that a ballot would throw out the new pay system.
This would be a serious problem for the New Labour government that has been spearheading these changes. And for the trade union leaders who have been reluctant to stand up to a government that has been shafting its own members.
In Sunderland, an EI site, the pay outcomes have even been excluded from the national results because they are so poor, with thousands of UNISON members and health service workers being downgraded or suffering other cuts.
It is believed that some 16,000 jobs in eleven sites throughout England have been evaluated and brought onto the new pay system. 15% of workers are now receiving pay protection.
Of this group the vast majority are low-paid ancillary workers and clerical staff. So a pay system sold to union members to end inequalities and improve conditions for the lowest paid has achieved the opposite.
15% requiring protection is about double that predicted at the beginning. The major reason for the protection is the impact of the new unsocial hours payments.
Enhancements
Under existing Whitley council rules, workers receive enhancements for working nights, weekends and bank holidays.
The new system does away with these enhancements and instead replaces them with a banded pay scale, giving a maximum 25% supplement on a weekly wage.
Given that ancillary workers receive either time and a half or double time for these unsocial hours it is hardly rocket science to find they have been hit hard by the new system.
Paul Marks told UNISON's service group executive that those in pay bands 1 and 2 ( the lowest paid) have been hardest hit.
In the EI sites, management have been unable to persuade workers to undertake the night, weekend and bank holiday shifts. It is thought that Christmas rotas normally agreed months in advance have been left unfilled because staff have refused to work them.
Managers have been forced to come to the negotiating table. But these new unsocial hours payments have proved much costlier to management than predicted. Where higher-paid staff have ended up in pocket, the lowest-paid have been clobbered. And it has cost management more to implement!
Management and trade union leaders realise they have a serious problem but neither have been prepared yet to say "enough is enough".
Union leaders who have invested so much in selling this new pay deal are reluctant to walk away. Management and New Labour are desperate to implement AFC because of the much greater flexibility and freedoms it gives NHS trusts - particularly foundation trusts.
UNISON was supposed to have produced a written evaluation of AFC and circulated this to branches and activists. For the moment that has been shelved. Neither the service group executive or regional officials received any written report on this mess.
Common pay and conditions
There is nothing wrong with the idea of establishing common pay and conditions across the NHS. But this new system establishes two pay spines and leaves doctors outside.
There is nothing wrong in the idea that the conditions of the lowest-paid should be improved and brought up to the best of the others. There is nothing wrong in wanting a pay system that does not discriminate against women workers.
But AFC does not meet any of these objectives. It is riddled with problems - not just those outlined in this article. It will not solve the problem of low pay in the health service. It will not eradicate inequalities.
What health unions should be doing is drawing up a substantial claim. This would include a 35-hour working week, six weeks paid holiday for all staff and the immediate and unequivocal ending of the two-tier workforce.
The claim should be submitted to management and fought for - balloting for strike action in the way that railway workers have shown is the only thing that management will understand.
There would be considerable enthusiasm in the hospitals for such an approach. It would prove a rallying ground for trade union recruitment and include at the centre of its objectives the ending of pay inequalities rooted in gender and race.
Health service workers should demand that union leaders come clean. Is it true that nearly one in six of our members face pay cuts? Is it true that the majority of those facing cuts are the lowest paid?
What does it tell us about the reality of management/trade union partnerships? It is the lowest paid and the most exploited who will suffer the most. Throw out Agenda for Change now !
---
Health Service Jobs Under Threat
ON 22 July, Health Secretary John Reid got up early to announce 6,000 jobs cuts across 42 health bodies over the next four years.
A NHS Logistics worker
New Labour thinks the 24,000 staff employed in organisations such as the National Blood Authority, Public Health Laboratory Services, NHS Pensions Authority, NHS Direct, Prescription Pricing Agency and NHS Logistics Authority are a burden to NHS frontline operations.
But many NHS staff on the frontline know these organisations play a valuable role in providing services to patients and staff as part of the NHS.
Many of the bodies will merge, others such as NHS Logistics will be market tested for privatisation. NHS Direct will eventually be given Foundation status, emphasising New Labour's intention to enforce a two-tier NHS service
No doubt John Reid, like Defence Secretary Geoff Hoon and Chancellor Gordon Brown, will feel content.
They can enjoy their summer holidays, knowing over 120,000 government workers will spend the next couple of months uncertain of their future.
---
Stop This Creeping Privatisation
WAKEFIELD AND Pontefract hospitals branch UNISON members have voted unanimously to consider strike action if Mid Yorkshire Hospitals NHS Trust outsource its sterilising services department (SSD).
Mick Griffiths and Adrian O'Malley, UNISON branch secretary and chair, personal capacity
Under the guise of modernisation, the Department of Health wants to reduce its 300 decontamination units down to 120. Thousands of health workers' jobs are at risk.
At a time when there are continuous reports of dirty hospitals it's crazy to commercialise theatre equipment sterilising units.
Our members are rightly incensed that the Trust is even considering this as the unit has just been modernised. The Hospitals Development Project Director has even said the Trust may not wish to have our unsightly decontamination 'hut' directly facing the entrance to the proposed new PFI hospital!
Disgracefully UNISON nationally seem to be meekly accepting this initiative as they are assured that TUPE (pay protection) will apply to the staff affected. So never mind the potential 40% cut in jobs!
The branch has passed a motion calling for regional and national action against this madness. But privatisation will definitely be met with industrial action in Wakefield. We are encouraged that our members are solid in their determination to resist. Likewise we will be determined to argue the case for the instigation of a national struggle against this creeping privatisation of vital health services.
---
Gobbledegook Can't Hide NHS Cuts
PONTEFRACT AND Castleford's New Labour MP Yvette Cooper is complaining about potential bed cuts in Pontefract hospital as a result of the proposed new district acute unit development.
John Gill and Mark Harrison, Pontefract Socialist Party
The Trust was due to pick its preferred private-sector bidder in April.
But 'affordability' concerns have led to a 'rescoping' of the scheme whilst health bosses decide what local health care needs will be met in the future.
Interestingly, Yvette Cooper says that the reduction from 400 beds down to just 59 in Pontefract General Infirmary has been agreed and the rescoping exercise should not lead to any more bed reductions within Pontefract!
Our local MPs seem unable to understand the complexities of the Private Finance Initiative within the NHS.
The public are not being consulted, just as we were ignored when thousands petitioned against the original Trust mergers.
We're now expected to pay even more for even less services whilst handing over local services to fat-cat profiteers!
Socialist Party members will keep campaigning for full public funding for the new developments as the only real 'value for money' option.
---
Home | The Socialist 7 August 2004 | Subscribe | News