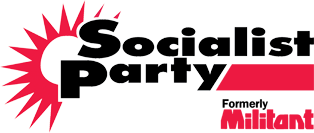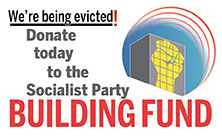 Archive article from The Socialist Issue 366
---
Home | The Socialist 16 October 2004 | Subscribe | News
Join the Socialist Party | Donate | Bookshop | Print
The Socialist Party at the ESF:
Rally
(also sponsored by International Socialist Resistance, the Committee for a Workers' International and Socialist Students)
Saturday 16 October, 6.30 - 8.30pm, Friends Meeting House, Euston Road, London.
Speakers include: Joe Higgins TD (Socialist Party MP in Southern Ireland) and socialists from Russia, Germany & Greece.
Translation to French, Russian and Spanish.
---
ESF workshop
Socialism - a viable alternative to capitalism
Hosted by the socialist newspaper and International Socialist Resistance
Friday 15 October, 1-3pm Congress House, Great Russell St, London WC1
---
Anti-war Demonstration
Sunday 17 October
Join the Socialist Party and ISR contingent
Meet in Russell Square, corner of Bernard Street and Woborn Place, London WC1 from 11am, for a joint Socialist Party/CWI rally.
---
European Social Forum: on this site
a Socialist Economy would Work
Workers Must Fight
---
Home | The Socialist 16 October 2004 | Subscribe | News