The Socialist 22 August 2018
Blairites go on saving Tories - boot them all out!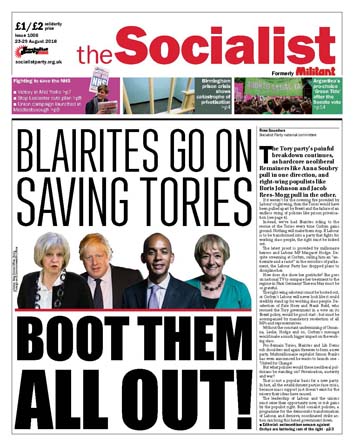 ---
Antisemitism smears against Corbyn are battering ram of the right
---
Blairites go on saving Tories - boot them all out!
Bosses' pay up a fifth while workers' pay falls ...
Birmingham Prison crisis: a catastrophe of cuts and privatisation
Johnson's burqa outburst highlights racist Tory hypocrisy
Tories fear housing anger... but offer no solutions
---
Strategic discussion needed in civil servants' union after pay ballot
MOJ pay offer: robbing Peter to pay Peter
Victory: NHS workers say no to privatisation
London cleaners' strike: 'Pay us a living wage!'
Liebherr strike for better pay
---
Argentina: The struggle for women's lives has been painted green!
Huge anti-government demos in Romania
Morandi Bridge disaster - private profit to blame
---
Waltham Forest Labour council votes to close library - campaign goes on
Keep Middlesbrough hospital staff in the NHS
Newcastle fans protest against Mike Ashley
The Socialist sales drive - how can you help?
End Runcorn school PFI rip off
Huge but chaotic Brighton Pride needs to be politicised
Why I joined the Socialist Party: "I was searching for an alternative to this system"
Revolt and Rebellion West London walk success
---
Ahed Tamimi - worldwide symbol of self-esteem in face of oppression
Union bureaucracies, soviets and workers' power
PO Box 1398, Enfield EN1 9GT
020 8988 8777