The Socialist 26 September 2018
Militant was right - councils can fight cuts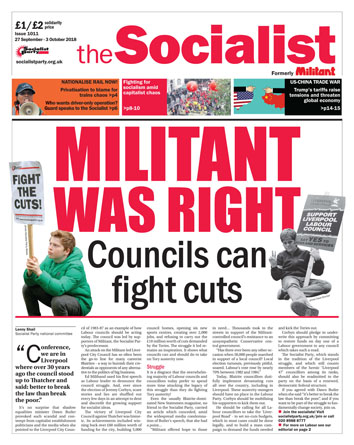 ---
Militant was right - councils can fight cuts
Fight for a democratic, socialist Labour Party
Fighting for socialism amid capitalist chaos
---
Students and workers unite and fight
Freshers fairs: socialist ideas chime with students
---
Private firms and toothless regulator to blame for trains chaos - nationalise rail now!
Fight plans for A&E appointment system - fight to save our NHS
Labour civil war rages in Enfield
---
Who wants driver-only operation?
Hospitality workers coordinate historic strike
Strike vote: college staff want a pay rise
Compulsory redundancies stopped at Leicester University
Safety-critical airport workers continue strike
Glasgow workers striking for equal pay
---
Victory for Sheffield Save Our NHS
Residents push back Barking estate landlords
Brilliant sales at Labour Party conference
Directors' contempt for repressed workers
Huddersfield campaigners keep their powder dry
---
Trump's tariffs raise international tensions
---
Powerful defence of the welfare state
PO Box 1398, Enfield EN1 9GT
020 8988 8777
editors@socialistparty.org.uk

Link to this page: https://www.socialistparty.org.uk/issue/1011/28008
Home | The Socialist 26 September 2018 | Join the Socialist Party
Subscribe | Donate | Audio | PDF | ebook
Residents push back Barking estate landlords
Pete Mason, chair, Barking Riverside residents association and east London Socialist Party
At a recent residents' meeting with the landlords of the Barking Riverside estate, they put a price on the major concessions we have wrung out of them in a bitter three-year campaign - £250,000. It was served up with a somewhat despondent apology for not listening to residents, and we were left with the distinct impression that it stung.
As well it should. Despite the overwhelming opposition of res-idents, the landlord had gone ahead and displaced perhaps as many as 350 residents' cars from the estate and imposed punitive parking restrictions.
Cars were suddenly plastered with parking tickets. Accumulated parking fines, now estimated at tens of thousands of pounds, are causing residents misery and illness.
Women, particularly black and minority ethnic women, felt vulnerable as they were forced to cross the estate at night to remote parking spaces. Those with children were faced with dragging them and shopping for miles. There was also a great lack of spaces for visiting family members.
Residents felt the injustice. They took control of their residents' association and fought back.
A lawyer advised us that we could sue for 'loss of easement' - at an initial cost of £2,400 - and would win, as the landlord had removed our rights as leaseholders. But we hesitated to take on the landlords through the courts, knowing that judges could be biased, given their class backgrounds.
Political pressure
Many residents refused to pay their fines. And those familiar with the skills needed to jump through legal hoops have won. But eventually, after we drew up a team of Trade Unionist and Socialist Coalition candidates to stand against our councillors - two of whom were coincidently on the crucial council planning committee - the councillors switched sides and gave us full backing against the landlord.
This public declaration, in July 2017, which was made good in the granted planning permission for 108 extra visitor spaces in August 2018, turned the tide and made the landlord realise that they must listen to us - which they have perhaps begun to do.
But we have bigger plans. More than 60 residents packed our annual general meeting (AGM) and unanimously passed a resolution calling for our residents' association to defend the right to residents' democratic control over the estate - which is written into the founding documents of the company set up to run the estate, but which the landlord wishes to overrule.
We also demanded the whip hand over the managing agents, currently appointed by the landlord.
Two days later, residents were informed that one of the managing agents - Pinnacle Places, which we singled out for criticism in our resolution - had been removed from a substantial part of the estate.
Our long term goal is residents' control over such decisions, together with public ownership of the common areas, high quality public and freehold housing and abolition of leaseholds.
And at the AGM, at which our very hard-working committee was elected unopposed, I made clear my socialist credentials and bitter opposition to privatisation that has crashed so badly on the estate.
---
In this issue
---
What we think

Militant was right - councils can fight cuts

Fight for a democratic, socialist Labour Party

Fighting for socialism amid capitalist chaos
---
Socialist Students

Students and workers unite and fight

Freshers fairs: socialist ideas chime with students
---
News

Private firms and toothless regulator to blame for trains chaos - nationalise rail now!

Fight plans for A&E appointment system - fight to save our NHS

Labour civil war rages in Enfield

Them & Us
---
Workplace

Who wants driver-only operation?

Hospitality workers coordinate historic strike

Strike vote: college staff want a pay rise

Compulsory redundancies stopped at Leicester University

Safety-critical airport workers continue strike

Glasgow workers striking for equal pay
---
Socialist Party reports and campaigns

Victory for Sheffield Save Our NHS

Residents push back Barking estate landlords

Brilliant sales at Labour Party conference

Directors' contempt for repressed workers

Huddersfield campaigners keep their powder dry
---
International socialist news and analysis

Trump's tariffs raise international tensions
---
Opinion

Powerful defence of the welfare state

The Socialist inbox
---
Home | The Socialist 26 September 2018 | Join the Socialist Party